A cat is considered to be obese when it is 20% above its ideal weight. Just like us humans, being overweight can shorten a cat's life expectancy and increase the risk of heart conditions and diabetes.
If you are concerned about your cat's weight and have been advised by a vet to put them on a restrictive diet, see our list of the best cat food for weight loss below.
Why should you not overfeed your cat?
It is important not to overfeed your cat for several reasons:
Obesity: Overfeeding can lead to obesity in cats, this can then result in an increase in the risk of various health problems such as diabetes, heart disease, arthritis and respiratory issues. It can reduce their overall quality of life and also shorten a cat's lifespan.
Reduced Lifespan: Obesity is associated with various health complications that can negatively impact a cat's overall well-being and longevity. Obese cats often have shorter lifespans compared to cats that maintain a healthy weight.
Decreased Quality of Life: Decreased mobility can cause difficulty in grooming and increased susceptibility to various health issues, your cat can then experience a reduced quality of life. Their overall happiness and well-being is impacted because they are less active, less playful and more lethargic.
Financial Burden: Frequent veterinary visits, medication, specialized diets, and potential treatments for obesity-related conditions can put a financial strain on cat owners.
What should you do if your cat is overweight?
To ensure the health and well-being of your cat, it's important to provide them with a balanced and appropriate diet and monitor their food intake. 
Determining the right amount to feed your cat depends on various factors, including their age, weight, activity level, metabolism, and any specific dietary requirements or health conditions they may have. 
Here are some general guidelines to help you determine the right amount to feed your cat:
Read the feeding guidelines: Most commercial cat food brands provide recommended feeding guidelines on their packaging. Do remember these are just guidelines and may need to be adjusted based on your cat's individual needs.
Consult with your veterinarian: Your veterinarian is the best resource for determining your cat's specific dietary needs. They may consider factors such as the cat's ideal weight, any underlying health issues, and the type of food (wet or dry) that suits your cat best and tailor feeding recommendations.
Consider your cat's activity level: Look to adjust portion sizes accordingly to accommodate their energy levels. Outdoor cats may have a higher activity level compared to other more sedentary indoor cats.
Monitor your cat's body condition: Regularly assess your cat's body condition by feeling their ribs and waistline. You should be able to feel their ribs without excess fat covering, and there should be a noticeable waistline behind the ribs when viewing from above. If your cat is underweight or overweight, adjust the portion size accordingly.
Split meals into multiple servings: Consider splitting their daily food portion into several smaller meals throughout the day rather than one large meal. This helps prevent overeating and promotes better digestion.
Avoid overfeeding treats: Treats should not contribute to a significant portion of your cat's daily calorie intake and should be given in moderation. Choose healthy, low-calorie treats or consider using portioned-out treats as part of their daily food allowance.
What health conditions can be caused by obesity in cats?
Obesity in cats can contribute to several health issues, including:
Diabetes: Overweight cats are at a higher risk of developing diabetes mellitus, a condition characterized by high blood sugar levels. Obesity affects insulin sensitivity, and the excess weight can strain the pancreas, leading to insulin resistance and an increased likelihood of diabetes.
Joint Problems: Osteoarthritis can be caused due to increased stress on joints when your cat is obese. Joint problems can cause pain, reduced mobility, and discomfort for the cat.
Heart Disease: Your cat's cardiovascular health and overall well-being can be compromised if they are obese. Obesity in cats can contribute to heart disease, including hypertension (high blood pressure) and cardiomyopathy (disease of the heart muscle).
Respiratory Issues: Breathing difficulties can occur in obese cats particularly during physical activities and warm environments. Respiratory issues can negatively impact a cat's overall quality of life.
Urinary Tract Problems: Obesity can contribute to the formation of urinary crystals, blockages, and bladder inflammation, leading to discomfort and potential complications. Feline lower urinary tract disease (FLUTD) is more likely in overweight cats.
Hepatic Lipidosis: Fatty liver disease, hepatic lipidosis can occur in overweight cats that experience a rapid loss of appetite or go without food for an extended period. The body's fat stores are mobilized excessively, overwhelming the liver's capacity to process them, resulting in liver dysfunction.
Sources
1
: Association of American Feed Control Officials
2
: Adapted by The Cat Food Advisor from the official definition of other fish ingredients as published by the Association of American Feed Control Officials
3
: Adapted by the Cat Food Advisor from the official definition of meat by the Association of American Feed Control Officials
Cat Food Advisor is reader supported. If you buy using links on this page, we may earn a referral fee.
Article reviewed by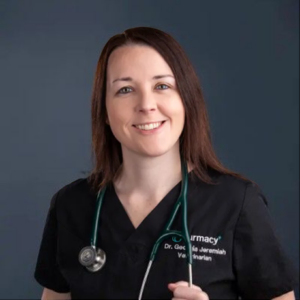 Dr Georgia Jeremiah has a first class honors degree in comparative pathology with field experience in anatomic and clinical pathology, studying disease processes in a multitude of species.
More from our Best Of...