Wet cat food tends to include a lot more meat ingredients than dry.
The increased moisture in the recipes is excellent for cats in need of extra hydration, and picky-eaters will also appreciate the variety of flavors available.
On this page, we share our list of the best wet cat foods, selected because they contain more protein and fewer carbohydrates.
Why feed your cat wet food?
The main benefit of feeding your cat wet food is the water content. Cats with kidney disease, urinary tract disease or diabetes need more water in their diet and wet food provides an easy way for cat parents to ensure they get this. It is also beneficial for cats with sensitive stomachs as it is easier to digest.
Wet food is also more comparable with the fresh prey cats would have eaten in the wild.
Do vets recommend wet food for cats?
Wet food is generally easier for cats to chew, so is often recommended by vets for cats with dental health issues or older cats who may have fewer teeth. It also tends to be lower in fat than dry food, so is good for cats that may need to lose a few pounds. 
How much wet food should you give your cat?
Most cats need between four to five ounces of wet cat food a day. However, it is important to note that some types of wet food contain more calories than others – pate-style varieties, for example, tend to be higher in calories than gravies and flakes.
Do cats that only eat wet food need water?
Although a diet of wet food provides a cat with the bulk of the water they need, it is important they still have access to fresh drinking water. This is because water helps cats flush toxins from the kidneys. It also aids digestion and the absorption of nutrients in their food.
Where should you put a cat's water bowl?
Interestingly, cats often prefer their water to be kept in a different location to their food.  A cat's natural instinct is to drink water which is separate from where they eat or go to the toilet. This is because they want to be sure their water is not contaminated by any potential bacteria.
Can you feed your cat a mix of wet and dry food?
The answer is, of course, yes . . . but it can lead to over feeding, so you need to regulate the amount of each food you give them to ensure they are getting the right amount of calories.
First, you need to determine the daily recommended amount of dry food they should be eating depending on the size, age and weight of your cat. There's a handy measurement table on the side of each bag of kibble. 
You can choose your own ratio of dry to wet food, but a general rule is two thirds dry to one third wet food. Wet and dry food have a different number of calories per gram, so take the weight of dry food you're not feeding your cat, and multiply this by 2.5 to get the right weight of wet food.
Sources
Cat Food Advisor is reader supported. If you buy using links on this page, we may earn a referral fee.
Article reviewed by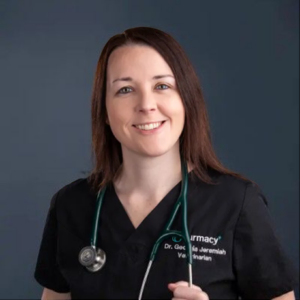 Dr Georgia Jeremiah has a first class honors degree in comparative pathology with field experience in anatomic and clinical pathology, studying disease processes in a multitude of species.
More from our Best Of...