There are a growing number of cat parents switching their pets over to a raw diet. But why?
Well, cats are carnivores by nature so many think it makes sense to feed them a diet more suited to the way their body works.
Raw cat food consists of fewer processed ingredients and naturally occurring nutrients, which can help maintain a healthy weight, support a cat's digestion and keep their teeth healthy.
See our list of the best raw cat foods recommended by our team of editors, made up of pet nutritionists and veterinarians.
Why feed your cat raw food?
Some cat parents believe a raw diet provides many benefits to their pets.
Cats are obligate carnivores which means they have evolved to thrive on a diet primarily consisting of meat. Feeding cats a diet closer to what they would have eaten in the wild is considered more natural.
Raw food is predominately made from unprocessed ingredients, rich in nutrients. Proponents believe this can lead to better overall health, improved digestion, healthier skin and coat and increased energy in cats.
Some pet parents turn to a raw diet as a way to help a cat with food allergies or sensitivities. By removing common allergens or introducing novel protein sources, they hope to alleviate allergic reactions or digestive issues.
Advocates suggest chewing on raw meat and bones can help maintain healthier teeth and gums in cats. The chewing action may help remove plaque and tartar buildup, reducing the risk of dental diseases.
And finally, raw diets are made up of high-quality protein and limited carbohydrates which some pet owners believe can help cats maintain a healthy weight or manage obesity.
Do vets recommend raw food for cats?
Opinions on raw diets among veterinarians vary, as scientific evidence supporting the claimed benefits mentioned above is limited.
There are also potential risks associated with handling raw meat, such as bacterial contamination.
Raw cat needs to be stored in the fridge in a sealed container or packaging to prevent cross-contamination and odor transfer to other items in the fridge.
Before transitioning your cat to a raw diet, it's advisable to consult with a veterinarian who has experience and knowledge in this area to ensure that your cat's nutritional needs are being met and to address any concerns or risks.
Cats can be sensitive to dietary changes, so a gradual transition is usually recommended. Start by mixing small amounts of the raw diet with your cat's current food, gradually increasing the proportion of raw food over several days or weeks. This gradual transition helps prevent digestive upset and allows your cat to adjust to the new diet more easily.
Can I feed my cat a raw diet exclusively, or should it be supplemented?
A raw diet should be nutritionally complete and balanced on its own. However, some cat parents add certain supplements, such as omega-3 fatty acids or taurine to their pets food, to ensure that their cat's nutritional needs are fully met.
Again, it's essential to consult with a veterinarian to determine if any additional supplementation is necessary for your cat's specific needs.
What is the difference between freeze-dried raw and frozen raw cat food?
Both freeze-dried and frozen raw cat food aim to provide a more natural and species-appropriate diet for cats. The choice between them often depends on personal preference, convenience, and the specific needs of the cat and their owner's lifestyle.
Freeze-Dried Raw Cat Food:
Processing: Freeze-drying involves removing moisture from the raw food through a process called sublimation. The food is frozen, and then low heat is applied to convert the ice directly into water vapor, bypassing the liquid stage. This process helps preserve the nutrients, flavors, and textures of the raw ingredients.
Shelf Stability: Freeze-dried raw cat food has an extended shelf life and does not require refrigeration or freezing. It can be stored at room temperature in a sealed container until opened.
Rehydration: Freeze-dried raw cat food can be rehydrated with water before serving, although some cats may prefer to eat it in its dry form.
Convenience: Freeze-dried cat food is lightweight, easy to handle, and does not require thawing. It is often used for travel or as a convenient alternative to frozen raw food.
Frozen Raw Cat Food:
Processing: Frozen raw cat food consists of raw ingredients that are ground, mixed, and then frozen to preserve their nutrients and freshness. It typically contains raw meat, organs, bones, and sometimes additional ingredients like vegetables or supplements.
Shelf Stability: Frozen raw cat food must be stored in a freezer at or below 0°F (-18°C). It has a limited shelf life and can spoil if not properly stored or used within the recommended timeframes.
Thawing: Prior to serving, frozen raw cat food needs to be thawed in the refrigerator or using the defrost setting on a microwave. Thawing ensures safe consumption and better palatability for the cat.
Texture: Frozen raw cat food tends to have a moist and soft texture due to the higher moisture content compared to freeze-dried food.
Sources
Cat Food Advisor is reader supported. If you buy using links on this page, we may earn a referral fee.
Article reviewed by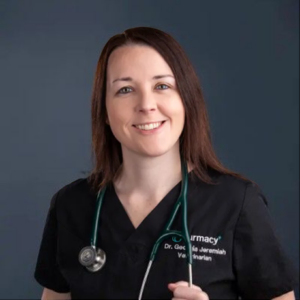 Dr Georgia Jeremiah has a first class honors degree in comparative pathology with field experience in anatomic and clinical pathology, studying disease processes in a multitude of species.
More from our Best Of...