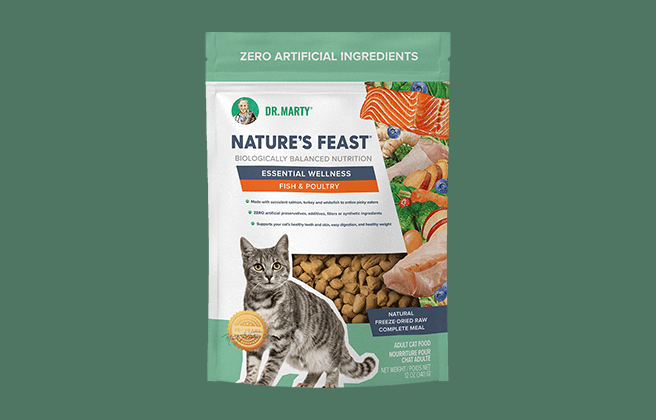 Dr Marty Nature's Feast freeze-dried raw cat food receives the Cat Food Advisor highest rating, 5 stars.
The first three ingredients are quality meat or fish sources which means the protein level is very high.  
Unlike foods that are cooked at high temperatures, this food is freeze dried which means the nutrients are protected in the production process. 
It is also free from artificial preservatives and synthetic vitamins and mineral powders.
Pros
First three ingredients are fish or meat
No preservatives, additives or fillers
High protein content
Freeze-dried preserves more of the nutritional value
Low in carbohydrate
Cons
Expensive versus other cat foods
Each recipe includes its AAFCO nutrient profile: Growth (kitten), Maintenance (adult), All Life Stages, Supplemental or Unspecified.
The Dr Marty product line includes three freeze-dried raw cat foods.
| Product line | Rating | AAFCO |
| --- | --- | --- |
| Essential Wellness Fish & Poultry | 5 | M |
| Essential Wellness Poultry | 5 | M |
| Essential Wellness Beef, Salmon & Poultry | 5 | M |
Exclusive new customer offer
up to 54% off Dr Marty Nature's Feast
Recipe and Label Analysis
Dr Marty Nature's Feast Essential Wellness Fish & Poultry recipe was selected to represent the other products in the line for a detailed recipe and nutrient analysis.
Label and nutrient data below are calculated using dry matter basis.
Dr Marty Nature's Feast Essential Wellness Fish & Poultry
Estimated Dry Matter Nutrient Content
Salmon, turkey, whitefish, chicken liver, chicken heart, chicken gizzard, sweet potato, flaxseed, egg, pumpkin seeds, peas, carrot, apple, blueberry, cranberry, ginger, salt, kelp, sunflower seeds, spinach, broccoli, kale, mixed tocopherols (preservatives
Fiber (estimated dry matter content) = 3%
Red denotes any controversial items
Ingredients Analysis
The first ingredient is salmon.  Salmon is an oily marine and freshwater fish not only high in protein but also omega 3 fatty acids, essential oils needed by every cat to sustain life.
The second ingredient is turkey.  Turkey is considered "the clean combination of flesh and skin derived from the parts or whole carcasses of turkey". 1
Turkey is naturally rich in the 11 essential amino acids required by a cat to sustain life.
The third ingredient is whitefish, a marine or freshwater species native to Canada and the California coast.
The fourth ingredient is chicken liver.  This is an organ meat sourced from a named animal and thus considered a beneficial component.

The fifth ingredient is chicken heart.  Although it doesn't sound very appetizing, heart tissue is pure muscle — all meat.  It's naturally rich in quality protein, minerals and complex B vitamins, too.
The sixth ingredient is chicken gizzard.  The gizzard is a low-fat, meaty organ found in the digestive tract of birds and assists in grinding up a consumed food which can be considered a natural part of a feline diet.
The seventh ingredient is sweet potato.  Sweet potatoes are a gluten-free source of complex carbohydrates in cat food.  They are naturally rich in dietary fiber and beta carotene.

The eighth ingredient is flaxseed, one of the best plant sources of healthy omega-3 fatty acids.  Provided they've first been ground into a meal, flax seeds are also rich in soluble fiber.
However, flaxseed contains about 19% protein, a factor that must be considered when judging the actual meat content of this cat food.
From here the list goes on to include a number of other items.  But to be realistic, ingredients located this far down the list (other than nutritional supplements) are not likely to affect the overall rating of the product.
Recipe star rating 5
Exclusive new customer offer
up to 54% off Dr Marty Nature's Feast
Nutrient Analysis
Based on its ingredients alone, Dr Marty Nature's Feast Essential Wellness Fish & Poultry recipe looks like an above-average freeze-dried product.
The dashboard displays a dry matter protein reading of 38.9%, a fat level of 24.2% and an estimated carbohydrate level of 28.8%.
As a group, the brand features an above-average protein content of 39.2% and an above-average fat level of 24.2%. Together these figures suggest a carbohydrate content of 28.8% for the overall product line, alongside a fat to protein ratio of 69%.
This means this Dr Marty range contains near-average protein, lower than average carbohydrate and higher than average fat, when compared to typical freeze-dried raw cat food.
Final Word
This range of food offers multiple sources of good quality meat and fish protein and is free from artificial preservatives and fillers.  Being freeze dried means that the nutrients are better preserved in the food and it offers a well balanced and nutritious diet.
The Cat Food Advisor highly recommends this food.
About
Founded by Dr Marty Goldstein, Dr Marty Pet was created to help support pet health through cutting-edge, premium freeze-dried raw dog and cat food and supplements. 
These premium pet formulas are manufactured in the USA and include the best-selling freeze-dried raw pet foods. 
Dr Marty Goldstein has been a leader in the field of veterinary medicine for more than 45 years, combining elements of traditional medicine with nutrition, immune support, and alternative treatments.
Sources
1
: Adapted by the Cat Food Advisor and based upon the official definition for chicken published by the Association of American Feed Control Officials, Official Publication, 2008 Edition
We uphold the highest editorial standards when creating the authoritative content pet parents rely on and trust.
Every piece of clinical content on the Cat Food Advisor is reviewed by our certified Veterinary Advisory Board, which consists of licensed veterinarians and medically certified specialists.
Our reviews are completely independent; we are not paid by any pet food company to promote their products favorably. We do not accept money, gifts, samples or other incentives in exchange for special consideration. For more information see our Disclaimer & Disclosure page.