There is a lot to think about when choosing the best food for your cat.
It needs to include all the essential vitamins, minerals and amino acids necessary to keep them healthy, as well as being high in protein to sustain their energy throughout the day.
And there is so much choice. . .
Long gone are the days when there was just canned wet food and bags of dry kibble. Now we have a choice of raw, fresh, organic, freeze-dried, dehydrated and frozen, to name just a few.
The Cat Food Advisor wants to be able to help cat parents make informed decisions when choosing a food. All our reviews are independent and unbiased and validated by our team of veterinarians and pet nutritionists.See our list of recommendations of the best 10 cat food, below.
How do we rate cat food?
In short, we analyze the labels which are government-regulated and standardized. We study the ingredient list and estimate the meat content. 
We mark down cat foods made with plant-based fillers or generic animal by-products, as well as those that use artificial colors and preservatives.
Cats are carnivores, so we favor cat food which is rich in meat.
Do cats get bored of eating the same food every day?
Just like us, cats do need variety in their diet (even if it is just mixing up the flavors of the food you give them). 
However, some cats definitely do better when they eat the same food every day, especially if they suffer from a sensitive stomach or are picky eaters.
If you are going to transition your cat onto a new food, you should do so slowly (over the course of a week or two) as this will help avoid an upset stomach.
Additionally, puzzle feeders or food-dispensing toys can provide mental stimulation and engage cats during mealtime, making the experience more enjoyable.
Please remember, cat nutrition is a serious business. Any time you change your cat's food or add something new to their diet, it's a good idea to run it by your vet first. 
Do vets recommend dry or wet food for cats?
This is not a straight-forward yes or no answer. At the end of the day, vets recommend a complete, balanced diet for cats and this can be kibble or wet food. 
Wet food requires greater attention to dental hygiene, as the risk of developing periodontal disease is higher. It is also preferable for cats suffering from health conditions where fluid intake needs to be increased.
There are certain conditions which warrant special diets (sometimes prescription-based) and these can be kibble or wet food.
Many vets are now recommending human-grade, fresh, wet foods and more species appropriate diets but, it is important to remember, there is no one-size that fits all. 
There are pros and cons to both wet and dry. So, please discuss options with your vet if you are in any doubt, especially if your cat is suffering from a condition that requires dietary therapy.
Can you feed your cat a mix of dry and wet food?
Yes, you can, but you need to be careful as it can lead to overfeeding which could cause your cat to suffer from health problems further down the line.
It is, therefore, very important to regulate the amount of each food you give your cat to ensure they get the right amount of calories they need.
To determine the daily recommended amount of dry food your cat should have, depending on its size, age and weight, check out the measurement table on the side of each bag of kibble. 
You can choose your own ratio of dry to wet food, but we recommend two thirds dry to one third wet. Each food type has a different number of calories per gram, so take the weight of dry food you're not feeding your cat, and multiply this by 2.5 to get the right weight of wet food.
How many meals should your cat have a day?
Most adult cats are fed one to two times per day, however, free feeding of kibble or combining regular wet food meals with free access to kibble are common feeding methods.
Free feeding may be appropriate for many cats but can be problematic in households with multiple cats where more dominant cats consume more calories than they require and have a propensity to gain weight. Conversely, less dominant animals can be left with too little food to maintain an appropriate body weight.
It is important to establish a consistent feeding routine for your cat and ensure they have access to fresh water at all times. Additionally, the portion sizes and type of food should be appropriate for your cat's age, weight, and dietary requirements.
Sources
Cat Food Advisor is reader supported. If you buy using links on this page, we may earn a referral fee.
Article reviewed by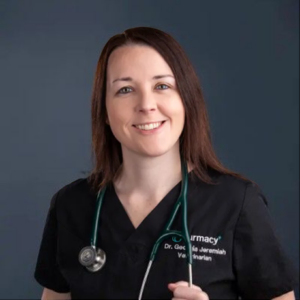 Dr Georgia Jeremiah has a first class honors degree in comparative pathology with field experience in anatomic and clinical pathology, studying disease processes in a multitude of species.
More from our Best Of...