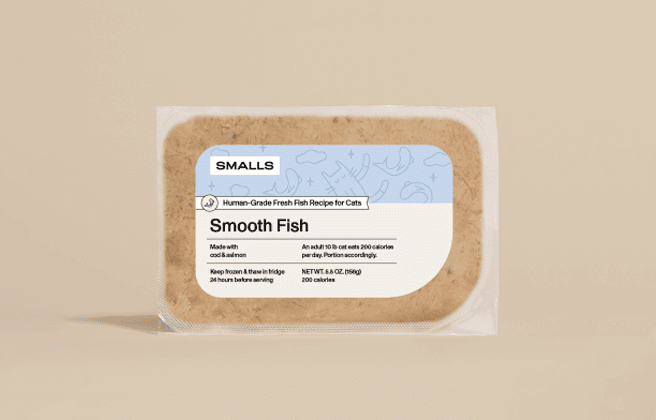 Smalls cat food receives the Cat Food Advisor's highest star rating; 5-stars.
Using high-quality human-grade ingredients, Smalls' recipes come in a variety of flavors and textures. They are developed in partnership with veterinarians and meet AAFCO standards.
High in protein, Smalls cat food contains no fillers or preservatives and is ideal for even the pickiest eaters at all life stages.
Pros
High protein
Preservative free
Sampler box available
Ideal for picky eaters
Cons
Needs to be stored frozen and thawed in refrigerator
Only available on subscription
Each recipe includes its AAFCO nutrient profile: Growth (kitten), Maintenance (adult), All Life Stages, Supplemental or Unspecified.
The product line includes seven different recipes.
| Product line | Rating | AAFCO |
| --- | --- | --- |
| Fresh Smooth Fish | 5 | A |
| Fresh Ground Bird | 5 | A |
| Fresh Smooth Other Bird | 5 | A |
| Fresh Smooth Cow | 5 | A |
| Fresh Ground Other Bird | 5 | A |
| Fresh Smooth Bird | 5 | A |
| Fresh Ground Cow | 5 | A |
Recipe and Label Analysis
Smalls Fresh Smooth Fish Cat Food was selected to represent the other products in the line for a detailed recipe and nutrient analysis.
Label and nutrient data below are calculated using dry matter basis.
Smalls Fresh Smooth Fish
Estimated Dry Matter Nutrient Content
Cod, salmon, pumpkin, nutritional yeast, peas, green beans, canola oil, tricalcium phosphate, cod liver oil, choline chloride, potassium chloride, salt, taurine, dried parsley, magnesium sulfate, Niacinamide, ferrous sulfate, zinc sulfate, Vitamin E supplement, thiamine mononitrate (vitamin B1), calcium pantothenate (vitamin B5), copper sulfate, pyridoxine hydrochloride (vitamin B6), manganese sulfate, riboflavin (vitamin B2), potassium iodide, folic acid, biotin (vitamin B7), vitamin B12 supplement, vitamin D3 supplement
Red denotes any controversial items
Ingredients Analysis
The first ingredient is cod, a marine species of fish native to both the Atlantic and Pacific coasts of North America. It is a quality item with raw fish containing up to 73% water.
The second ingredient is salmon, an oily marine and freshwater fish not only high in protein but also omega-3 fatty acids, essential oils needed by every cat to sustain life.
The third ingredient is pumpkin. Pumpkin is a nutritious addition, high in complex carbohydrates, beta-carotene and dietary fiber.
The fourth ingredient is nutritional yeast, which is high in protein and rich in other healthy nutrients. However, it can be a controversial item. Fans believe yeast repels fleas and supports the immune system. Critics argue yeast can be linked to allergies. In any case unless your cat is specifically allergic to it, we feel yeast should be considered a nutritious addition.
The fifth and sixth ingredients are peas and green beans. Peas are a quality source of carbohydrates and like all legumes, they're rich in natural fiber. Green beans, a healthy vegetable notable for its vitamin, mineral and natural fiber content.
The seventh ingredient is canola oil. Unfortunately, canola can be a controversial item because it can sometimes (but not always) be derived from genetically modified rapeseed. Yet others cite the fact canola oil can be a significant source of essential omega-3 fatty acids.
From here the list goes on to include a number of other items. But to be realistic, ingredients located this far down (other than nutritional supplements) are not likely to affect the overall rating of the product.
Nutrient Analysis
Based on its ingredients alone, Smalls Fresh Smooth Fish is a highly rated recipe made with 40% salmon and 40% cod.
The dashboard displays a dry matter protein reading of 55.8%, a fat level of 26.9% and an estimated carbohydrate level of 9.3%.
As a group, the brand features an above average protein content of 55% and a mean fat level of 32%. Together these figures suggest a carbohydrate content of 5.25% for the overall product line, alongside a fat-to-protein ratio of 59%.
This means Smalls cat foods contain higher than average protein and carbohydrates when compared to typical fresh cat food.
Final Word
Smalls cat food recipes are made from human-grade ingredients, cooked to lock in nutrients and then frozen to maximize freshness. High-protein diets help cats to live longer and healthier lives.
Has Smalls cat food been recalled in the past?
Smalls cat food has had two recalls. The most recent was a limited recall of its chicken and turkey recipes in June 2021. Smalls said the issue was due to refrigeration issues made worse by the fact no preservatives are added to the food.
And, in March 2019, Smalls recalled Diamond Dust chicken liver powder shipped to customers between October 9, 2018 and March 25, 2019, after testing revealed possible adulteration. The company stressed the powder was made at a different site from where the cat food is produced, so no other products were affected.
You can view a complete list of all cat food recalls since 2021 here.
To stay on top of any cat food product recalls, sign up for our free email alerts, here.
About
Smalls was founded in 2017 by friends Matt Michaelson and Calvin Bohn. The pair started to make the food from Michaelson's kitchen in NYC's East Village. It is now produced with a co-manufacturer in a human-grade commercial facility near Chicago.
Sources
We uphold the highest editorial standards when creating the authoritative content pet parents rely on and trust.
Every piece of clinical content on the Cat Food Advisor is reviewed by our certified Veterinary Advisory Board, which consists of licensed veterinarians and medically certified specialists.
Our reviews are completely independent; we are not paid by any pet food company to promote their products favorably. We do not accept money, gifts, samples or other incentives in exchange for special consideration. For more information see our Disclaimer & Disclosure page.