Organic cat food must meet AAFCO nutritional regulations and USDA guidelines.
To be certified organic, the food must contain 95% organic ingredients — crops grown without the use of synthetic pesticides, fertilizers, antibiotics, and genetically modified organisms (GMOs).
Organic cat food typically uses ingredients that have been grown and produced according to organic standards.
Most organic cat food sold in the US is partially organic, which means it contains varying amounts of organic ingredients.
On this page we share our recommendations of the best organic cat food.
What is organic cat food?
Organic cat food refers to cat food made from ingredients that have been produced and processed according to organic farming standards.
Organic farming involves the use of natural methods and prohibits the use of synthetic pesticides, fertilizers, genetically modified organisms (GMOs), antibiotics, and growth hormones.
Organic cat food consists of organic ingredients such as meats, fruits, vegetables, and grains grown without the use of synthetic pesticides, fertilizers, or GMOs. It typically avoids the use of artificial preservatives, flavors, and colors.
The use of filler products such as corn, wheat, and soy, are minimized and instead, healthier alternatives such as organic sweet potatoes or peas are used.
It's important to note that while organic cat food may have certain benefits, not all cats necessarily require an organic diet. Each cat has unique dietary needs, and it's essential to choose cat food that suits your pets individual health requirements. Consulting with a veterinarian can help you determine the best diet for your cat.
Why do people feed their cat organic food?
People choose to feed their cats organic food for several reasons:
Organic cat food is often perceived as healthier because it is made from high-quality ingredients free from synthetic pesticides, fertilizers, and GMOs.
Like humans, cats can develop allergies or sensitivities to certain ingredients. Organic cat food may be chosen as an alternative to conventional cat food that contains common allergens such as grains, artificial additives, or meat from animals treated with antibiotics or hormones. Organic options often use hypoallergenic ingredients, which may be gentler on cats' digestive systems.
Some pet parents choose organic cat food due to their personal environmental and ethical beliefs. Organic farming practices aim to minimize environmental impact by avoiding the use of synthetic chemicals, supporting biodiversity, and promoting sustainable agriculture. By choosing organic products, pet owners can align their values with their purchasing choices.
Organic cat food is often associated with higher food safety standards. Since organic farming prohibits the use of certain synthetic chemicals, pet owners may feel more confident that the ingredients in organic food have undergone fewer chemical treatments or processing steps that could potentially introduce contaminants.
Do vets recommend organic food for cats?
Veterinarians have varying opinions on organic cat food. Some vets may recommend organic food for cats, others may not. The primary concern for veterinarians is ensuring that cats receive a well-balanced and nutritionally complete diet that meets their individual needs.
When it comes to choosing cat food, veterinarians typically focus on factors such as:
Nutritional content: Vets prioritize cat foods that are nutritionally balanced and formulated to meet the specific life stage and health needs of the cat. They look for appropriate levels of protein, fats, carbohydrates, vitamins, and minerals.
Ingredient quality: Veterinarians may advise selecting cat foods with high-quality ingredients, such as named meat sources, whole grains (if appropriate for the cat's diet), and limited fillers. The focus is on ensuring the food provides necessary nutrients rather than solely on whether the ingredients are organic.
Safety and testing: Vets emphasize the importance of feeding cats food that has undergone rigorous testing and meets industry standards for safety and quality control. This includes proper handling, processing, and adherence to regulatory guidelines.
Individual cat's needs: Vets consider any specific dietary requirements or health concerns a cat may have. For instance, if a cat has a food allergy or sensitivity, the focus would be on identifying and avoiding the specific allergens rather than solely on whether the food is organic.
It's worth mentioning that organic cat food can be a viable choice for pet owners who prioritize organic products or have specific reasons for seeking them. Ultimately, the decision on what type of cat food to feed should be made in consultation with a veterinarian who can provide tailored advice based on the individual cat's health, dietary needs, and any specific considerations.
Sources
Cat Food Advisor is reader supported. If you buy using links on this page, we may earn a referral fee.
Article reviewed by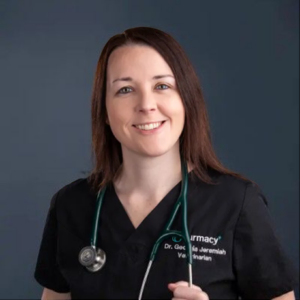 Dr Georgia Jeremiah has a first class honors degree in comparative pathology with field experience in anatomic and clinical pathology, studying disease processes in a multitude of species.
More from our Best Of...