It can be a worry if your cat is a finicky eater, often refusing to eat food or just licking the gravy or jelly around it. So, we have put together a list of recommendations of the best cat food for picky eaters. However, please be aware that sometimes fussiness can be caused by an underlying health condition, such as a dental problem or sensitive stomach. So, if you have concerns, seek advice from a veterinarian first.
What to feed a cat that's a picky eater?
It's challenging having a cat that is a picky eater. Here are some tips to help encourage your cat to eat:
Your cat may have a preference for certain flavors and textures, so experiment. Try offering a variety of wet and dry foods with different flavors to determine what your cat prefers.
Warm up the food: Heating the cat's food can enhance its aroma and make it more appealing. Cats have sensitive tongues so warm it through and do not overheat it.
Introduce new brands: Some cats may have brand preferences. There is a huge variety of brands and formulations to choose from, see which your cat responds better to.
Add toppers or mix-ins: Pet food toppers can make food more palatable to picky eaters. Add on top of your cat's regular food. You can also try mixing a small amount of wet food into dry kibble to add more flavor and moisture.
Establish a routine: Leaving food out all the time may contribute to your cat's picky eating behavior. Instead, stick to a feeding plan of meals at a set time of the day rather than free-feeding, this will help establish a routine. 
Offer interactive feeding toys: Some cats enjoy the challenge of hunting for their food. Interactive feeding toys, such as puzzle feeders or treat balls, can make mealtime more engaging and encourage your cat to eat.
Consult your veterinarian: If your cat is refusing food after 24 hours or eating less than usual you should consult your vet. This could possibly be an indication of an illness or disease.
Why do cats become picky eaters?
Cats can be picky eaters for various reasons, including instinctual, behavioral, and health-related factors. Here are some possible explanations for their finicky eating habits:
Cats are natural hunters, and in the wild, they have a diverse diet consisting of different types of prey. This can make them more selective when it comes to their food preferences. Some cats may have a preference for certain flavors, textures, or smells based on their innate instincts.
Cats can be fussy eaters and surprisingly picky about their diet. With only 470 taste buds compared to a human's 9,000, a cats' sense of taste in food is very selective. So you may find your cat will turn their nose up at food that doesn't tempt their taste buds or lacks nutrition.
Previous negative experiences could be a big factor in your cat becoming a picky eater. If a cat becomes ill after eating a particular food, they may develop an aversion to it and refuse to eat it again. 
Texture is important for cats. Some cats prefer wet food because it has a higher moisture content and a softer texture, while others may prefer the crunch of dry kibble. Each cat will have their own preference.
Health problems are another major factor in your cat becoming a picky eater. Anything from dental issues, gastrointestinal discomfort, or underlying medical conditions can affect their appetite. It's important to rule out any underlying health issues if your cat's picky eating persists or if you notice other concerning symptoms.
Cats are very sensitive to change, if your cat has become a picky eater it could be their environment that is affecting this not the food you are serving them. They are creatures of habit. Stress, anxiety, or changes in their routine, such as moving to a new home or the addition of a new pet, can affect their appetite and make them more selective with their food
Understanding the reasons behind a cat's picky eating behavior can help you address their needs and find ways to encourage them to eat a balanced diet. If you have concerns about your cat's eating habits, it's always advisable to consult with a veterinarian for a thorough guidance.
What do vets recommend if your cat is a picky eater?
Veterinarians may recommend several strategies to address picky eating in cats. Here are some common recommendations:
Ensure a balanced diet: It's crucial to ensure that your cat's nutritional needs are met. Vets may suggest offering high-quality, balanced cat food that provides all the necessary nutrients. They may recommend both wet and dry food options to cater to different preferences.
Food trials: This involves introducing different brands or flavors of cat food in small quantities to identify what your cat prefers. This will help determine which specific food your cat prefers.
Variety and rotation: Providing a variety of cat food flavors and textures to stimulate your cat's interest in mealtime could increase the chance of finding a food that your cat likes. Rotating between different brands or protein sources can also prevent boredom.
Feeding schedule: Establishing a regular feeding routine can help encourage your cat to eat. Vets may suggest offering food at specific times and to remove the food after a certain time, typically 15-20 minutes. This helps create a routine and motivates your cat to eat when food is available.
Feeding environment: Create a calm and comfortable feeding environment. Vets may recommend feeding your cat in a quiet area away from any distractions. Providing a clean and appropriate-sized bowl can also enhance the eating experience.
Consultation and monitoring: If your cat's picky eating behavior continues or is accompanied by other concerning symptoms, it's important to consult with a veterinarian. Your vet will conduct a thorough examination, assess your cat's health, and provide advice and recommendations.
Sources
Cat Food Advisor is reader supported. If you buy using links on this page, we may earn a referral fee.
Article reviewed by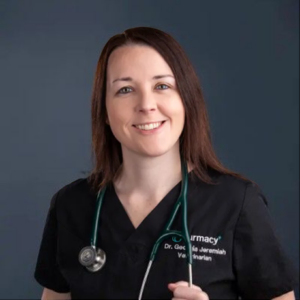 Dr Georgia Jeremiah has a first class honors degree in comparative pathology with field experience in anatomic and clinical pathology, studying disease processes in a multitude of species.
More from our Best Of...