Every cat is different and some can be really sensitive to the food they eat, causing them to suffer from vomiting, diarrhea and flatulence.
Cats with a sensitive stomach may have food intolerances and some foods may just be too rich for them.
If your cat has a sensitive stomach you might want to try a different food to help ease their symptoms.
See below for our recommendations of the best cat food for a sensitive stomach.
What can cause cats to have a sensitive stomach?
Cats can have sensitive stomachs for various reasons. Here are some common factors that can contribute:
Food allergies or intolerances: Cats may develop allergies or intolerances to certain ingredients in their food, common ingredients which can cause sensitivities include beef, chicken, fish & dairy.
Dietary changes: A cat's digestive system is made to process a limited number of foods, a sudden change in their diet can disrupt their digestive system, leading to stomach sensitivities. It's important to introduce new foods gradually and maintain a consistent feeding schedule.
Poor-quality diet: Low-quality or inappropriate diet can result in gastrointestinal problems. Cats require a diet that is appropriate for their life stage and nutritionally balanced.
Food sensitivities: Cats can be sensitive to certain ingredients or additives commonly found in commercial cat foods, such as artificial preservatives, flavors, or colors. These can cause gastrointestinal distress and sensitivity.
Eating too quickly: If your cat has a tendency to eat their food too quickly this can result in indigestion, vomiting, or other stomach issues. Slow feeder bowls or interactive feeding toys can help slow down their eating pace.
Hairballs: Cats groom themselves by licking their fur, and this can lead to the formation of hairballs in their stomachs. Hairballs can cause discomfort and digestive disturbances.
Stress or anxiety: Cats are sensitive animals, and a change in their environment or routine can cause stress or anxiety and result in an upset stomach. 
What are the main symptoms of a sensitive stomach in cats?
Cats with sensitive stomachs may exhibit a variety of symptoms related to their gastrointestinal distress. Here are some common signs to look out for:
Vomiting: Cats with sensitive stomachs may vomit more frequently than usual. The vomit may contain undigested food or bile and can occur shortly after eating or at random times.

Diarrhea: Loose or watery stools can be a sign of a sensitive stomach. Their stool may have an unpleasant odor and their bowel movement may be more regular.

Flatulence: You may notice your cat passing gas more frequently or having foul-smelling gas. These are symptoms of a sensitive stomach. 

Poor appetite or picky eating: They may eat smaller amounts or show disinterest in meals; it could

be a sign of GI issues such as gastroenteritis. 

Weight loss: Digestive issues can lead to weight loss in cats. If their sensitive stomach is preventing proper nutrient absorption, it may cause a gradual decline in body weight.

Abdominal discomfort: If your cat is showing increased restlessness, pacing, or discomfort when touched in the abdominal area this could be symptoms of a sensitive stomach.

Changes in behavior: Cats experiencing digestive sensitivities may display changes in behavior, including lethargy, decreased activity levels, or irritability.

Dehydration: If your cat is frequently vomiting or has diarrhea this can lead to dehydration, look for signs of increased thirst, dry gums or reduced elasticity in their skin.
It's important to note that these symptoms can also indicate other underlying health conditions, so it's advisable to consult with a veterinarian for an accurate diagnosis and appropriate treatment.
What should you do if you think your cat may have a sensitive stomach?
If you suspect your cat has a sensitive stomach, it's essential to consult with a veterinarian. They can help determine the underlying cause and recommend appropriate dietary and lifestyle modifications to alleviate the issue.
What sort of food is beneficial for cats with a sensitive stomach?
When feeding a cat with a sensitive stomach, it's important to choose a diet that is easily digestible, gentle on the stomach, and formulated to address digestive sensitivities. Here are some guidelines for selecting food for cats with sensitive stomachs:
Limited ingredient diet: Opt for cat food with a limited number of high-quality ingredients. This can help identify and eliminate potential allergens or irritants from your cat's diet.
Novel protein sources: If your cat has been eating chicken-based food, you can try a food with novel proteins like duck, rabbit, or venison. This can help determine if your cat has any specific protein sensitivities.
Easily digestible carbohydrates: Easily digestible carbohydrates, such as rice or sweet potato can provide a gentle source of energy and reduce the likelihood of stomach upset.
Avoid common allergens: Ingredients that are known to commonly trigger food allergies or sensitivities in cats are beef, dairy, fish, or grains, check food labels and avoid these ingredients.
High-quality and balanced nutrition: Look for food that is specifically formulated for cats with sensitive stomachs or digestive issues and ensure they provide a complete and balanced nutrition.
Wet or moist food: The higher moisture content can help prevent dehydration and provide additional hydration for your cat, so try wet or moist cat food that can be easier to digest compared to dry kibble.
Gradual transition: When deciding to introduce new food, start by mixing a small amount of the new food with the old food, gradually increasing the proportion of the new food over time. This gradual transition can help minimize digestive upset.
Sources
1
: Association of American Feed Control Officials
Cat Food Advisor is reader supported. If you buy using links on this page, we may earn a referral fee.
Article reviewed by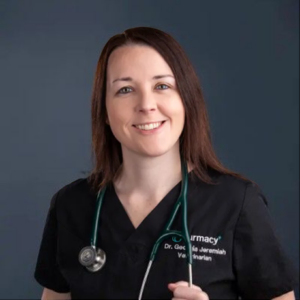 Dr Georgia Jeremiah has a first class honors degree in comparative pathology with field experience in anatomic and clinical pathology, studying disease processes in a multitude of species.
More from our Best Of...