The advantages of dry cat food are numerous — not only is it generally cheaper than wet food, you can also leave it in your cat's bowl all day without it spoiling.
Finding the best dry cat food can be a challenge, however, so we've combined the top picks from our team of researchers, pet nutritionists and veterinarians, to create a list of the best dry cat food recipes available today.
All the recipes contain high-quality ingredients and offer a balanced and complete diet for cats. They are formulated to provide all the necessary nutrients, vitamins, and minerals required for optimal feline health.
Some even cater to specific dietary needs, such as age-specific formulas or those designed for cats with specific health conditions.
Why feed your cat dry food?
Dry cat food is more calorie dense than wet food. It is easier to store and can be left out for longer without fear of it becoming contaminated with bacteria.
It is ideal for cats that prefer to snack throughout the day, rather than those that eat at set times.
However, it does need to be stored in a cool area and in a sealed, air tight container to keep it fresh.
Do vets recommend dry food for cats?
Dry cat food can be better for a cat's teeth as the friction created by chewing dry food will prevent the build up of tartar.
It is also easier to control the portion size of dry food to make sure your cat is getting the calories they need and are not overeating.
Kibble can also be put in slow-feeders which mentally stimulates your cat by allowing them to 'hunt' and complete tasks to get their food.
How much dry food should I give my cat?
As a general rule of thumb, if you are feeding your cat high-quality dry food, such as those recommended by the Cat Food Advisor, 1/2 cup of food or between 167–250 calories a day is the ideal amount.
Do cats on a dry food diet need water?
Yes, it is very important that cats on a dry food diet have access to clean drinking water.  It may seem obvious but dry food contains a lot less water than wet food.
Interestingly, cats often prefer their water to be kept in a different location to their food bowl.  This is a natural instinct to ensure their water is not contaminated from any potential bacteria.
If you are worried that your cat is not drinking enough water, you can add water to their dry food. (About a quarter of a cup of water to one portion of dry food should be plenty).
However, wet kibble should not be left out for longer than about 30 minutes as it can attract flies and grow bacteria which could make your cat sick. Once your cat has finished eating, put the food in the fridge or throw it away.
Can you feed your cat a mix of wet and dry food?
The short answer is, of course, yes, but . . . . it can lead to over feeding, so you need to regulate the amount of each food you give your cat to ensure they are getting the right amount of calories.
First, you need to determine the daily recommended amount of dry food your cat should be eating depending its size, age and weight. The measurement table on the side of each bag of kibble should help.
You can choose your own ratio of dry to wet food, but we recommend two thirds dry to one third wet. Each food type has a different number of calories per gram, so take the weight of dry food you're not feeding your cat, and multiply this by 2.5 to get the right weight of wet food.
Cat Food Advisor is reader supported. If you buy using links on this page, we may earn a referral fee.
Article reviewed by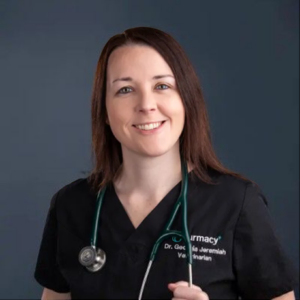 Dr Georgia Jeremiah has a first class honors degree in comparative pathology with field experience in anatomic and clinical pathology, studying disease processes in a multitude of species.
More from our Best Of...