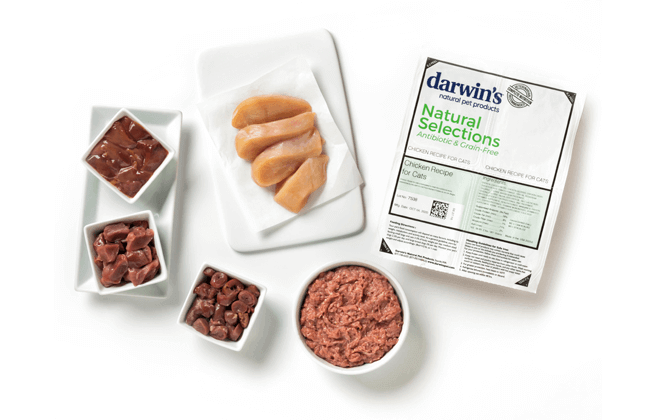 Darwin's Natural Selections Raw cat food receives the Cat Food Advisor rating, 4.5 stars.
Natural Selections meals are minimally processed to preserve the vital nutrients your cat needs. All meat is pasture-raised and grass-fed so your pet is receiving top-quality meat.
Pros
Quality ingredients
Grain-free
Specific formulas for health issues
In-house consultants to help tailor a meal plan for your pet
Cons
Amount of packaging
Handling raw meat is not easy
Takes time to prepare
Each recipe includes its AAFCO nutrient profile: Growth (kitten), Maintenance (adult), All Life Stages, Supplemental or Unspecified.
The Darwin's Natural Selections raw product line includes three cat foods.
| Product line | Rating | AAFCO |
| --- | --- | --- |
| Chicken for Cats | 4.5 | U |
| Turkey for Cats | 4.5 | U |
| Beef for Cats | 4.5 | U |
Get 10lbs of Darwin's Raw Food for $14.95
Recipe and Label Analysis
Darwin's Natural Selections Chicken for Cats was selected to represent the other products in the line for a detailed recipe and nutrient analysis.
Label and nutrient data below are calculated using dry matter basis.
Darwin's Natural Selections Chicken for Cats
Estimated Dry Matter Nutrient Content
Chicken meat, chicken necks (including bone), chicken gizzards, chicken livers, chicken hearts, fish oil, cod liver oil, tomato pomace, potassium chloride, taurine, magnesium proteinate, choline chloride, inulin, sea salt, zinc proteinate, vitamin E, iron proteinate, manganese proteinate, copper proteinate, thiamine mononitrate, vitamin B12, iodine (eddi), vitamin D3, and folic acid
Fiber (estimated dry matter content) = 0.2%
Red denotes any controversial items
Ingredients Analysis
The first ingredient is chicken. Chicken is considered "the clean combination of flesh and skin… derived from the parts or whole carcasses of chicken".1
The second ingredient is chicken neck. Raw chicken neck consists of muscle meat and bone and contains optimal levels of both protein and natural calcium.
Chicken is naturally rich in the 11 essential amino acids required by a cat to sustain life.
The third ingredient is chicken gizzard. The gizzard is a low-fat, meaty organ found in the digestive tract of birds and assists in grinding up a consumed food which can be considered a natural part of a feline diet.
The fourth ingredient is chicken liver. This is an organ meat sourced from a named animal and thus considered a beneficial component.
The fifth ingredient is chicken heart. Although it doesn't sound very appetizing, heart tissue is pure muscle – all meat. It's naturally rich in quality protein, minerals and complex B vitamins, too.
The sixth ingredient is fish oil. Fish oil is naturally rich in the prized EPA and DHA types of omega-3 fatty acids. These two high-quality fats boast the highest bioavailability to cats and humans. Depending on its level of freshness and purity, fish oil should be considered a commendable addition.
The seventh ingredient is cod liver oil, a fish oil known to be rich in both EPA and DHA omega-3 fatty acids as well as vitamins A and D.
The eighth ingredient is tomato pomace. Tomato pomace is a controversial ingredient, a by-product remaining after processing tomatoes into juice, soup and ketchup.
Many praise tomato pomace for its high fiber and nutrient content, while others scorn it as an inexpensive pet food filler. Just the same, there's probably not enough tomato pomace here to make much of a difference.
From here the list goes on to include a number of other items. But to be realistic, ingredients located this far down the list (other than nutritional supplements) are not likely to affect the overall rating of the product.
This recipe receives a 4.5-star rating.
Get 10lbs of Darwin's Raw Food for $14.95
Nutrient Analysis
Based on its ingredients alone, Darwin's Natural Selections Raw Cat Food looks like an above-average raw product.
The dashboard displays a dry matter protein reading of 53.3%, a fat level of 30% and an estimated carbohydrate level of 8.7%, alongside a fat-to-protein ratio of 56%.
As a group, the brand features an average protein content of 53.3% and a mean fat level of 36.7%. Together these figures suggest a carbohydrate content of 8.7% for the overall product line, alongside a fat-to-protein ratio of 69%.
This means the Darwin's Natural Selections product line contains above-average protein, below-average carbs and above-average fat when compared to typical raw cat food.
Final Word
Darwin's Natural Selections is a quality product for any cat parent looking for a raw diet option.
Has Darwin's cat food been recalled in the past?
In August 2023, the FDA issued a warning after Salmonella was detected in Darwin's Natural Selections raw cat food.
The food affected was:
Darwin's Natural Pet Products Natural Selections Chicken Recipe for Cats, Lot 9795, manufactured on June 28, 2023
Darwin's Natural Pet Products Natural Selections Chicken Recipe for Cats, Lot 9830, manufactured on July 19, 2023
Darwin's raw cat food was also recommended for a recall in May 2022 by the U.S food and drug administration, however, Darwin's declined. In a statement, the company stated its food was safe and the recall was wholly unnecessary.
You can view a complete list of all cat food recalls since 2021 here.
To stay on top of any cat food product recalls, sign up for our free email alerts, here.
About
Darwin's was one of the first pet food companies to bring raw pet food directly to pet parents. Based in Seattle, it has been formulating raw pet foods for 15 years.
Sources
1
:
Association of American Feed Control Officials
We uphold the highest editorial standards when creating the authoritative content pet parents rely on and trust.
Every piece of clinical content on the Cat Food Advisor is reviewed by our certified Veterinary Advisory Board, which consists of licensed veterinarians and medically certified specialists.
Our reviews are completely independent; we are not paid by any pet food company to promote their products favorably. We do not accept money, gifts, samples or other incentives in exchange for special consideration. For more information see our Disclaimer & Disclosure page.