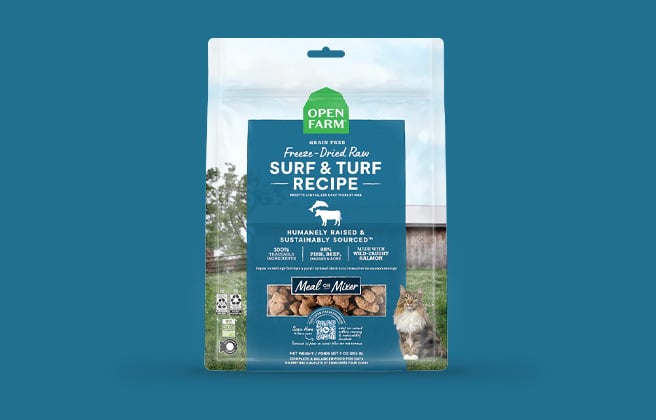 Open Farm Freeze Dried Raw cat food receives the Cat Food Advisor rating, 5 stars
This range of food lists quality animal meat as the first ingredient which means the protein content is high across all recipes.  Carbohydrates are very low and vitamins have been added to provide a well balanced diet.
Pros
High in protein
Low in carbohydrate
Main fat content is animal based
Each recipe includes its AAFCO nutrient profile: Growth (kitten), Maintenance (adult), All Life Stages, Supplemental or Unspecified.
The Open Farm Freeze Dried Raw product line includes four cat foods
| Product line | Rating | AAFCO |
| --- | --- | --- |
| Harvest Chicken | 5 | A |
| Surf & Turf | 5 | A |
| Chicken & Salmon | 5 | A |
| Wild-Caught Salmon & Cod | 5 | A |
EXCLUSIVE: New customer offer
20% off first auto-ship order with code CFA20
Recipe and Label Analysis
Open Farm Surf & Turf Freeze Dried Raw Cat Food recipe was selected to represent the other products in the line for a detailed recipe and nutrient analysis.
Label and nutrient data below are calculated using dry matter basis.
Open Farm Surf & Turf Freeze Dried Raw Cat Food
Estimated Dry Matter Nutrient Content
Salmon, 100% animal welfare certified beef, 100% animal welfare certified beef liver, 100% animal welfare certified beef heart, 100% animal welfare certified beef bone, montmorillonite clay, dicalcium phosphate, organic dandelion greens, potassium chloride, texas, saskatchewan, niacin supplement, vitamin E supplement, vitamin A supplement, thiamine mononitrate, pantothenic acid, riboflavin supplement, pyridoxine hydrochloride, vitamin D3 supplement, vitamin B12 supplement, folic acid, biotin, salt, organic cranberries, taurine, choline chloride, mixed tocopherols (a preservative), zinc proteinate, iron proteinate, copper proteinate, manganese proteinate, calcium iodate, sodium selenite, magnesium sulfate, rosemary extract
Fiber (estimated dry matter content) = 5%
Red denotes any controversial items
Ingredients Analysis
The first ingredient is salmon.  Salmon is an oily marine and freshwater fish not only high in protein but also omega 3 fatty acids, essential oils needed by every cat to sustain life.
The second ingredient is beef. Beef is defined as "the clean flesh derived from slaughtered cattle" and includes skeletal muscle or the muscle tissues of the tongue, diaphragm, heart or esophagus. 1
Beef is naturally rich in all 11 essential amino acids required by a cat to sustain life.
The third ingredient is beef liver, an organ meat sourced from a named animal and thus considered a beneficial component.
The fourth ingredient is beef heart, although this doesn't sound very appetizing to us humans, heart tissue is pure muscle — all meat.  It's naturally rich in quality protein, minerals and complex B vitamins, too.
The fifth ingredient is beef bone, which is an excellent source of natural calcium.

The sixth ingredient is montmorillonite clay, a naturally occurring compound rich in many trace minerals. Montmorillonite has been approved for use in USDA Organic Certified products.
Reported benefits include the binding of certain mold-based toxins and even controlling diarrhea and irritable bowel syndrome (IBS).

The seventh ingredient is dicalcium phosphate, likely used here as a dietary calcium supplement.
From here the list goes on to include a number of other items. But to be realistic, ingredients located this far down the list (other than nutritional supplements) are not likely to affect the overall rating of the product.
However, this recipe contains sodium selenite, a controversial form of the mineral selenium.  Sodium selenite appears to be nutritionally inferior to the more natural source of selenium found in selenium yeast.
This food also contains chelated minerals that have been chemically attached to protein.  This makes them easier to absorb. Chelated minerals are usually found in better cat foods.

Recipe star rating 5.
EXCLUSIVE: New customer offer
20% off first auto-ship order with code CFA20
Nutrient Analysis
Based on its ingredients alone, the Open Farm Surf & Turf Freeze Dried Raw Cat Food recipe looks like an above-average freeze dried raw product.
The dashboard displays a dry matter protein reading of 47.4%, a fat level of 35.8% and an estimated carbohydrate level of 8.8%.
As a group, the brand features an above-average protein content of 47.4% and an above-average fat level of 35.8%.  Together these figures suggest a carbohydrate content of 8.8% for the overall product line, alongside a fat to protein ratio of 75%.
This means this Open Farm Freeze Dried Raw range contains higher than average protein, lower than average carbohydrate and higher than average fat, when compared to typical freeze-dried raw cat food.
Final Word
Open Farm Freeze Dried Raw cat food is made by freezing raw ingredients and then removing the moisture through a dehydration process. This process helps to preserve the nutritional value of the ingredients while making the food shelf-stable.
Unlike heavily processed commercial cat foods, freeze-dried raw cat food from Open Farm is minimally processed. This means that it retains the integrity of the ingredients without the use of high heat or excessive cooking.
The Cat Food Advisor highly recommends this food.
About
In 2014, Jacqueline Prehogan founded Open Farm Pet Foods.  The cat food arm of the operation has its headquarters in Canada, and the products are developed and formulated in Canada. However, production takes place over the border in the state of Minnesota. 
The company is focused on using locally sourced ingredients, and the location of the plant allows easy access to farms that meet their strict animal welfare and quality standards.
Sources
1
: Association of American Feed Control Officials
We uphold the highest editorial standards when creating the authoritative content pet parents rely on and trust.
Every piece of clinical content on the Cat Food Advisor is reviewed by our certified Veterinary Advisory Board, which consists of licensed veterinarians and medically certified specialists.
Our reviews are completely independent; we are not paid by any pet food company to promote their products favorably. We do not accept money, gifts, samples or other incentives in exchange for special consideration. For more information see our Disclaimer & Disclosure page.