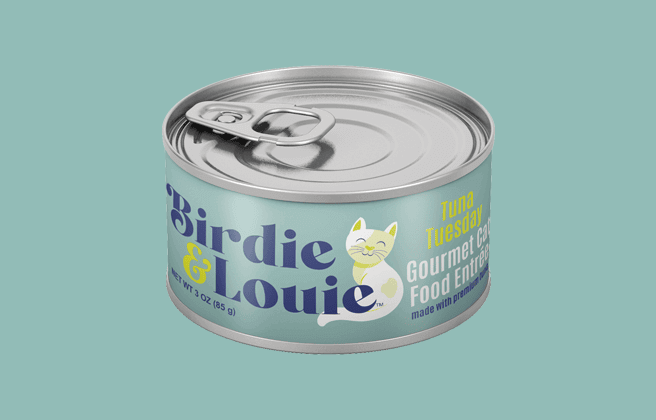 Birdie & Louie wet cat food receives the Cat Food Advisor rating, 5 stars
This range of food lists fish as the first ingredient and no plant-based proteins are used.  Carbohydrate and fat levels are low and there are added vitamins and minerals which provides a well balanced diet.
Pros
High in fish based protein
Low in carbohydrate and fat
Added vitamins and minerals
Cons
More expensive than many other cat foods
Have to buy in bulk i.e. packs of 12 minimum
Each recipe includes its AAFCO nutrient profile: Growth (kitten), Maintenance (adult), All Life Stages, Supplemental or Unspecified.
with Autoship
See discount in cart
Recipe and Label Analysis
Birdie & Louie Tuna Tuesday Wet Cat Food recipe was selected to represent the other products in the line for a detailed recipe and nutrient analysis.
Label and nutrient data below are calculated using dry matter basis.
Birdie & Louie Tuna Tuesday 12pk Wet Cat Food recipe
Estimated Dry Matter Nutrient Content
Tuna, vegetable broth, potato starch, sunflower oil, tricalcium phosphate, calcium carbonate, potassium chloride, choline chloride, taurine, vitamins (vitamin A supplement, vitamin D3 supplement, vitamin E supplement, thiamine mononitrate, niacin supplement, pantothenic acid, pyridoxine hydrochloride, riboflavin, vitamin K supplement, folic acid, biotin, vitamin B12 supplement), minerals (magnesium proteinate, iron proteinate, zinc proteinate, copper proteinate, manganese proteinate, calcium iodate, sodium selenite).
Fiber (estimated dry matter content) = 1%
Red denotes any controversial items
Ingredients Analysis
The first ingredient is tuna. Tuna is an oily marine fish not only high in protein but also omega 3 fatty acids, essential oils needed by every cat to sustain life.
This item is typically sourced from clean, undecomposed whole fish and fish cuttings of commercial fish operations. 1
The second ingredient is vegetable broth, a broth made from various vegetables simmered in water. Stocks are nutritionally empty. Yet because they add moisture to a cat food they are a common finding in canned and wet products.
The third ingredient is potato starch. Potato starch is a gluten-free carbohydrate used more for its thickening properties than its nutritional value.
The fourth ingredient is sunflower oil. Sunflower oil is nutritionally similar to safflower oil. Since these oils are high in omega-6 fatty acids and contain no omega-3s, they're considered less nutritious than canola or flaxseed oils.
Sunflower oil is notable for its resistance to heat damage during cooking.
There are several different types of sunflower oil, some better than others. Without knowing more, it's impossible to judge the quality of this ingredient.
The fifth ingredient is tricalcium phosphate, a beneficial source of calcium and phosphorous. In addition, this additive is used in wet foods as an emulsifier — an agent designed to disperse a food's fats more evenly in water.
The sixth ingredient is calcium carbonate, likely used here as a dietary mineral supplement.
The seventh ingredient is potassium chloride, a nutritional supplement sometimes used as a replacement for the sodium found in table salt.
The eighth ingredient is choline chloride, an essential B vitamin that naturally occurs in both plants and animals. It is found in meat, eggs, fish, liver, soybeans and wheat germ.
Because a cat cannot store choline chloride in its body, the nutrient must be replenished to avoid a deficiency. Choline chloride is a supplement required by both AAFCO and the FDA.
From here the list goes on to include a number of other items. But to be realistic, ingredients located this far down the list (other than nutritional supplements) are not likely to affect the overall rating of the product.
However, this recipe contains sodium selenite, a controversial form of the mineral selenium. Sodium selenite appears to be nutritionally inferior to the more natural source of selenium found in selenium yeast.
This food also contains chelated minerals that have been chemically attached to protein. This makes them easier to absorb. Chelated minerals are usually found in better cat foods.
Recipe star rating 5
with Autoship
See discount in cart
Nutrient Analysis
Based on its ingredients alone, Birdie & Louie Tuna Tuesday Wet Cat Food looks like an above-average wet product.
The dashboard displays a dry matter protein reading of 77.8%, a fat level of 11.1% and an estimated carbohydrate level of 3.1%.
As a group, the brand features an above-average protein content of 73.3% and a near-average fat level of 11.1%. Together these figures suggest a carbohydrate content of 7.6% for the overall product line, alongside a fat to protein ratio of 15%.
This means this Birdie & Louie range contains higher than average protein, lower than average carbohydrate and near-average fat, when compared to typical wet cat food.
Final Word
This range of food offers a high protein diet, based on fish meat protein.  There is a good selection of recipes to choose from and all have added minerals and vitamins.
The Cat Food Advisor recommends this food.
About
Birdie & Louie is part of Worthy Promotional Products, a family-owned and operated pet food manufacturer and distributor founded in 2010.  Its headquarters are in Wetumpka, Alabama and Azteca Laredo, Texas, USA.
Birdie & Louie products are manufactured in Ecuador.
Sources
1
: Adapted by The Cat Food Advisor from the official definition of other fish ingredients as published by the Association of American Feed Control Officials
We uphold the highest editorial standards when creating the authoritative content pet parents rely on and trust.
Every piece of clinical content on the Cat Food Advisor is reviewed by our certified Veterinary Advisory Board, which consists of licensed veterinarians and medically certified specialists.
Our reviews are completely independent; we are not paid by any pet food company to promote their products favorably. We do not accept money, gifts, samples or other incentives in exchange for special consideration. For more information see our Disclaimer & Disclosure page.