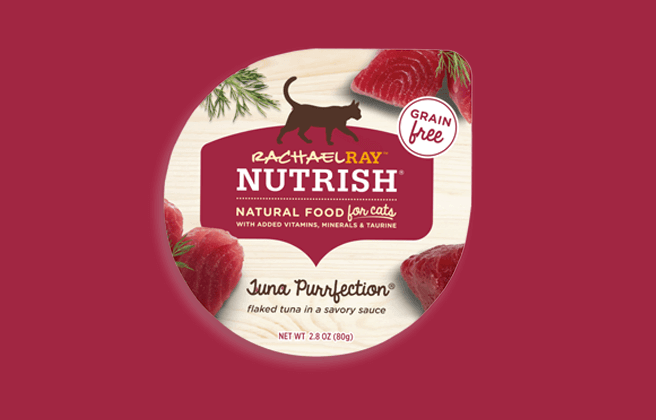 Rachael Ray Nutrish wet cat food receives the Cat Food Advisor rating of 4 stars.
Made from high quality natural ingredients and named meat and fish sources, this product range is highly recommended. It has been marked down slightly due to its high fat content.
Pros
Number one ingredient is meat & fish products
High in protein
Cons
Above average fat content
Each recipe includes its AAFCO nutrient profile: Growth (kitten), Maintenance (adult), All Life Stages, Supplemental or Unspecified.
The Rachael Ray Nutrish wet product line includes nine wet cat foods.
| Product line | Rating | AAFCO |
| --- | --- | --- |
| Chicken & Shrimp Pawttensca | 4 | U |
| Chicken Purrcata | 4 | U |
| Ocean Fish & Chicken Cach-iatore | 4 | U |
| Ocean Fish-A-Licious | 4 | U |
| Chicken & Liver Recipe | 4 | U |
| Tuna Purrfection | 4 | U |
| Purrfect Entrees Cravin' Chicken Dinner | 4 | U |
| Purrfect Entrees Fin-Tastic Primavera | 4 | U |
| Purrfect Entrees Sea-Sational Florentine | 4 | U |
with Autoship
See discount in cart
Recipe and Label Analysis
Rachael Ray Nutrish Tuna Purrfection was selected to represent the other products in the line for a detailed recipe and nutrient analysis.
Label and nutrient data below are calculated using dry matter basis.
Rachael Ray Nutrish Tuna Purrfection
Estimated Dry Matter Nutrient Content
Tuna, water, vegetable oil, powdered cellulose, tricalcium phosphate, salt, guar gum, xanthan gum, celery powder, potassium chloride, choline chloride, magnesium sulfate, calcium carbonate, carrageenan, cassia gum, fructooligosaccharide, taurine, paprika powder, zinc proteinate, iron proteinate, l-ascorbyl-2-polyphosphate (source of vitamin C), vitamin E supplement, thiamine mononitrate, niacin, manganese proteinate, vitamin a supplement, copper proteinate, calcium iodate, pantothenic acid, sodium selenite, riboflavin, vitamin B12 supplement, pyridoxine hydrochloride, folic acid, vitamin D3 supplement, biotin, menadione sodium bisulfite complex (source of vitamin K activity)
Fiber (estimated dry matter content) = 3.5%
Red denotes any controversial items
Ingredients Analysis
The first ingredient is tuna. Tuna is an oily marine fish not only high in protein but also omega-3 fatty acids, essential oils needed by every cat to sustain life.
This item is typically sourced from clean, undecomposed whole fish and fish cuttings of commercial fish operations.1
The second ingredient is water, which adds nothing but moisture to this food. Water is a routine finding in most wet cat foods.
The third ingredient is vegetable oil, a generic oil of unknown origin. The ratio of omega-6 to omega-3 fats in any oil is nutritionally critical and can vary significantly (depending on the source).
Without knowing more, it's impossible to judge the quality of an item so vaguely described. However, compared to a named animal fat, a generic vegetable oil cannot be considered a quality ingredient.
The fourth ingredient is powdered cellulose, a non-digestible plant fiber usually made from the by-products of vegetable or wood processing.
Powdered cellulose provides no nutritional value to a cat, although the fiber it provides does convey health benefits. Some powdered cellulose products work to reduce the occurrence of hairballs in cats.
The fifth ingredient is tricalcium phosphate, a beneficial source of calcium and phosphorus. In addition, this additive is used in wet foods as an emulsifier — an agent designed to disperse a food's fats more evenly in water.
The sixth ingredient is salt (also known as sodium chloride). Salt is a common additive in many cat foods. That's because sodium is a necessary mineral for all animals — including humans.
Salt can often be found in cat foods to promote cats to drink more water too. This is a means of increasing their hydration and diluting their urine which helps to reduce the likelihood of urinary stones forming.
However, since the actual amount of salt added to this recipe isn't disclosed on the list of ingredients, it's impossible to judge the nutritional value of this item.
The seventh ingredient is guar gum, a gelling or thickening agent found in many wet pet foods. Refined from dehusked guar beans, guar gum can add a notable amount of dietary fiber to any product.
From here the list goes on to include a number of other items. But to be realistic, ingredients located this far down the list (other than nutritional supplements) are not likely to affect the overall rating of the product.
However, it does contain sodium selenite, a controversial form of the mineral selenium. Sodium selenite appears to be nutritionally inferior to the more natural source of selenium found in selenium yeast.
It also contains carrageenan, a gelatin-like thickening agent extracted from seaweed. Although carrageenan has been used as a food additive for hundreds of years, there appears to be some recent controversy regarding its long-term biological safety.
The article, The Carrageenan Controversy, published in Scientific American, does a good job of addressing this topic.
This recipe receives a 4-star rating.
with Autoship
See discount in cart
Nutrient Analysis
Based on its ingredients alone, Rachael Ray Nutrish Tuna Purrfection wet cat food looks like an above-average food.
The dashboard displays a dry matter protein reading of 43%, a fat level of 24% and an estimated carbohydrate level of 25.3%.
As a group, the brand features an average protein content of 44% and a mean fat level of 25%. Together these figures suggest a carbohydrate content of 21.6% for the overall product line, alongside a fat-to-protein ratio of 56%.
This means that the Rachael Ray Nutrish wet cat food product line contains above-average protein, fat and carbs levels when compared to typical wet cat food
Final Word
Rachael Ray Nutrish wet cat food contains many high-quality ingredients in its recipes and is highly recommended by the Cat Food Advisor. However, due to the high fat content, we were unable to award it 5 stars. The AAFCO nutrient profile for this product range is also unspecified on the company website.
Has Rachael Ray cat food been recalled in the past?
Yes. In June 2015, a number of Rachael Ray Nutrish wet cat food varieties were recalled due to high levels of vitamin D, which can cause serious health complications in cats.
The products affected were:
Paw Lickin' Chicken & Liver, 2.8 oz. single pack, "Best by" date of Aug. 17, 2015
Ocean Fish & Chicken Catch-iatore, 2.8 oz. single pack, "Best by" date of Dec. 1, 2016
Ocean Fish-a-licious, 2.8 oz. single pack, "Best by" date of Dec. 1, 2016
Tuna Purrfection, 2.8 oz. single pack, "Best by" date of Dec. 1, 2016
Lip Smackin' Sardine & Mackerel, 2.8 oz. single pack, "Best by" date of Dec. 1, 2016
Two variety packs that contain some of these recalled products also were recalled:
Chicken Lovers Variety Pack, 12 count pack of 2.8 oz cups, "Best by" date of Dec. 1, 2016
Ocean Lovers Variety Pack, 12 count pack of 2.8 oz cups, "Best by" date of Dec. 1, 2016
You can view a complete list of all cat food recalls since 2021 here.
To stay on top of any cat food product recalls, sign up for our free email alerts, here.
About
Rachael Ray Nutrish was founded in 2008 by Food Network favorite Rachael Ray, who joined up with Ainsworth Pet Nutrition to develop a range of dog food containing simple, natural ingredients. The cat food element of the business began in 2014.
In spring 2018, pet food giant J.M. Smucker Company announced it was buying Ainsworth.
The brand line includes Rachael Ray Nutrish, Rachael Ray Nutrish SuperMedleys, Rachael Ray Nutrish Little Bites, Rachael Ray Nutrish Large Breed, Nutrish Dish, Nutrish Dish Stews, Just 6, Zero Grain, PEAK, PEAK Treats, Soup Bones, Smoochies Biscuits, Smoochies Brushes, Purrfect Entrées, Purrfect Broths, Love Bites, Wheelies, Soft Spots.
Sources
1
: Adapted by The Cat Food Advisor from the official definition of other fish ingredients as published by the Association of American Feed Control Officials
We uphold the highest editorial standards when creating the authoritative content pet parents rely on and trust.
Every piece of clinical content on the Cat Food Advisor is reviewed by our certified Veterinary Advisory Board, which consists of licensed veterinarians and medically certified specialists.
Our reviews are completely independent; we are not paid by any pet food company to promote their products favorably. We do not accept money, gifts, samples or other incentives in exchange for special consideration. For more information see our Disclaimer & Disclosure page.