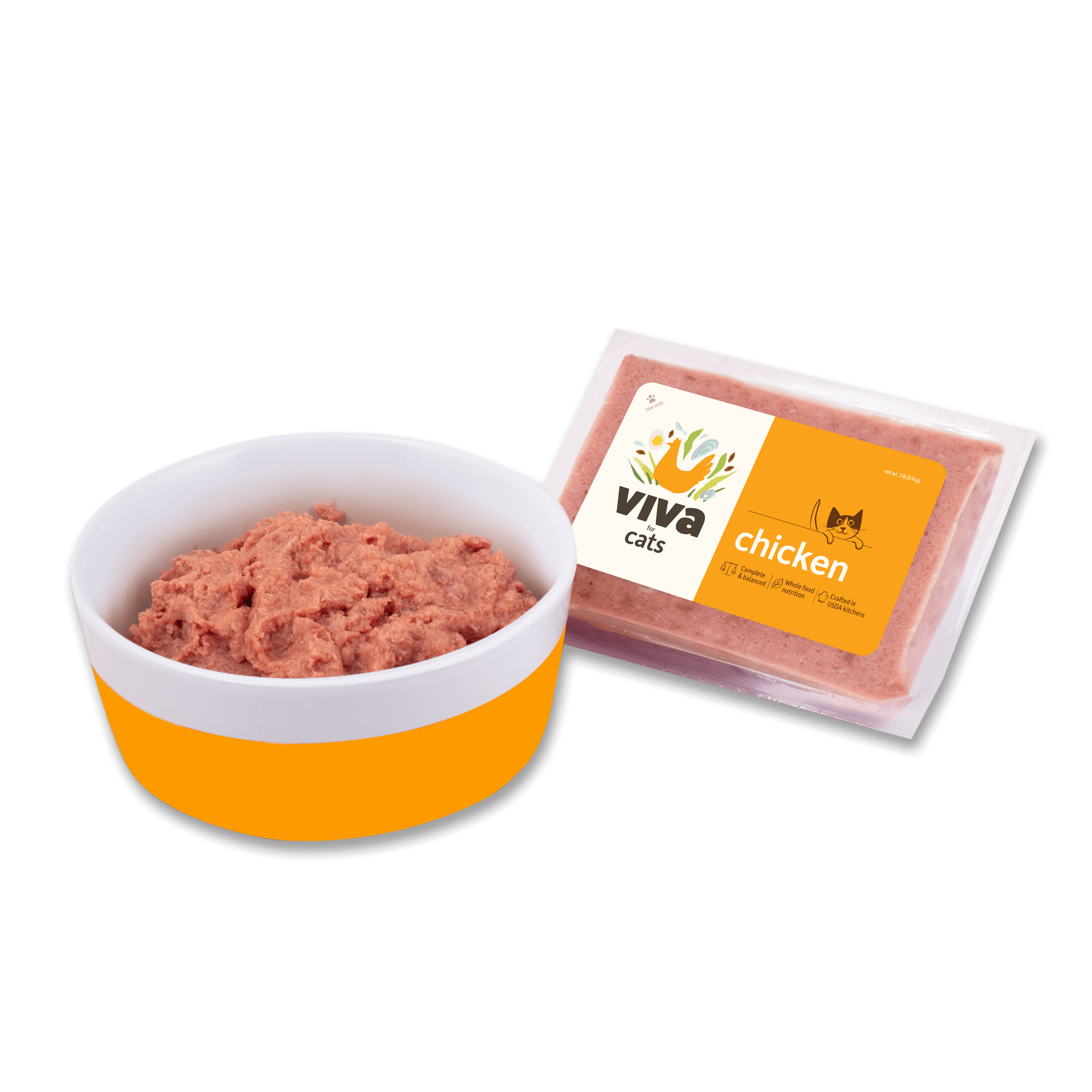 Viva Raw cat food receives the Cat Food Advisor's highest rating, 5 stars.
This range provides cats with a very high protein diet. It lists animal meat as the first ingredient and contains named animal organs in each recipe. The ingredients are human-grade and sourced from certified-humane farms which raise animals without antibiotics or hormones.  
Carbohydrate content is low and it is rich in fat and moisture.  This food offers an excellent diet option.
Pros
Animal protein listed as first ingredient
Very high protein content
Human grade meat
Low in carbohydrate
Rich in fat and moisture content
Cons
Supplements may be needed
Expensive versus other cat foods
Needs defrosting before serving
Each recipe includes its AAFCO nutrient profile: Growth (kitten), Maintenance (adult), All Life Stages, Supplemental or Unspecified.
The Viva Raw product line includes five cat foods.
| Product line | Rating | AAFCO |
| --- | --- | --- |
| Chicken | 5 | A |
| Turkey | 5 | A |
| Beef | 5 | A |
| Duck | 5 | A |
| Rabbit | 5 | A |
Recipe and Label Analysis
The Viva for Cats Chicken recipe was selected to represent the other products in the line for a detailed recipe and nutrient analysis.
Label and nutrient data below are calculated using dry matter basis.
Viva for Cats Chicken recipe
Estimated Dry Matter Nutrient Content
Chicken with ground bone, chicken heart, chicken gizzard, chicken liver, organic psyllium husk, blue mussels, fish oil (anchovy, sardine) powder, organic egg yolk, taurine, cod liver oil powder, organic icelandic kelp, nutritional yeast, natural vitamin E, oysters, manganese proteinate
Fiber (estimated dry matter content) = 1%
Red denotes any controversial items
Ingredients Analysis
The first ingredient is chicken with ground bone. Chicken is considered "the clean combination of flesh and skin derived from the parts or whole carcasses of chicken". [fnAssociation of American Feed Control Officials[/fn]
Chicken is naturally rich in the 11 essential amino acids required by a cat to sustain life.
The second ingredient is chicken heart. Although it doesn't sound very appetizing, heart tissue is pure muscle — all meat.  It's naturally rich in quality protein, minerals and complex B vitamins, too.
The third ingredient is chicken gizzard, an edible internal organ by-product of poultry slaughter.
Although the thought of eating an animal's internal organs may not be appealing to most humans, these unfamiliar ingredients can be considered a natural part of an authentic feline diet.
The fourth ingredient is chicken liver. This is an organ meat sourced from a named animal and thus considered a beneficial component.

The fifth ingredient is organic psyllium husk, the fifth ingredient is organic psyllium husk, a source of bulking fiber which can contribute to softer stools and promote healthy digestion.  In addition, psyllium husk can be used to prevent hairballs.
The sixth ingredient is blue mussels. Mussels are clam-like animals notably rich in glucosamine and omega-3 fatty acids, nutrients proven to support long-term joint health.

The seventh ingredient is fish oil powder. Fish oil is naturally rich in the prized EPA and DHA type of omega-3 fatty acids.  These two high quality fats boast the highest bioavailability to dogs and humans. 
Depending on its level of freshness and purity, fish oil should be considered a commendable addition.

The eighth ingredient is organic egg yolk which are are highly digestible with an exceptionally high biological value.  Egg yolk is an excellent source of usable protein, as well as a rich source of many vitamins, minerals and fatty acids.
We also note the positive addition of taurine in this recipe.  Taurine is an essential amino acid for cats associated with the healthy function of heart muscle and eye sight, and is crucial for maintaining good health in cats. 
From here the list goes on to include a number of other items. But to be realistic, ingredients located this far down the list (other than nutritional supplements) are not likely to affect the overall rating of the product.
Recipe star rating 5.
Nutrient Analysis
Based on its ingredients alone, the Viva for Cats Chicken recipe looks like an above-average raw product.
The dashboard displays a dry matter protein reading of 61.2%, a fat level of 23.8% and an estimated carbohydrate level of 7%.
As a group, the brand features an average protein content of 62.1% and a mean fat level of 25.8%.  Together these figures suggest a carbohydrate content of 4.1% for the overall product line, alongside a fat to protein ratio of 42%.
This means the Viva Raw range contains above-average protein, below-average carbohydrate and above-average fat, when compared to typical raw cat food.
Final Word
Viva Raw uses USDA-inspected, humanely raised meat with full transparency, chunked food for pet parents to see what they are feeding.
The Cat Food Advisor highly recommends this food.
About
Jenn Wu and Zach Ao started Viva Raw in 2021. 
As first-time pet parents, they were struggling to find a fresh diet they wanted to feed their pet, so decided to make their own! 
The food is manufactured in North Carolina from farms based in the US. The company uses humanely raised, USDA-inspected meat and organic natural supplements, not synthetics, for maximum bioavailability. It will only work with farms that raise their animals with no hormones or antibiotics and focus on quality feed & clean environments.
Sources
We uphold the highest editorial standards when creating the authoritative content pet parents rely on and trust.
Every piece of clinical content on the Cat Food Advisor is reviewed by our certified Veterinary Advisory Board, which consists of licensed veterinarians and medically certified specialists.
Our reviews are completely independent; we are not paid by any pet food company to promote their products favorably. We do not accept money, gifts, samples or other incentives in exchange for special consideration. For more information see our Disclaimer & Disclosure page.