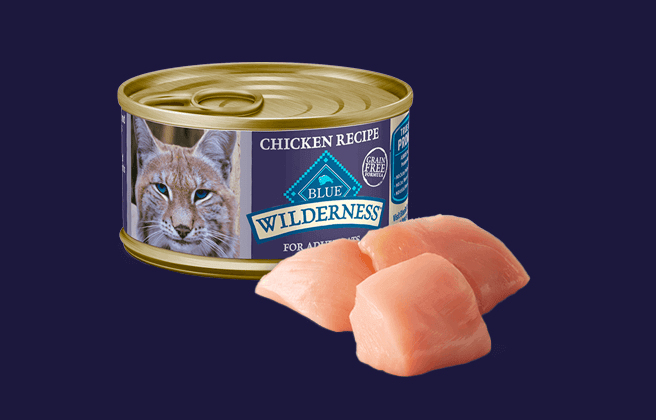 Blue Buffalo Wilderness wet cat food receives the Cat Food Advisor highest rating, 5 stars.
Made from high-quality natural ingredients such as real chicken and with no corn, wheat or soy, this range is formulated to support your cat's nutritional needs.
The Wilderness wet range comes in a variety of flavors and textures and is enhanced with vitamins and minerals. It also meets AAFCO standards.
Pros
Low carbohydrate content
No meat or poultry by-products
Free from artificial ingredients
Above average moisture content
Good source of omega-3 fatty acids
Cons
Some recipes contain carrageenan
Brand has had a number of recalls
Limited plant-based proteins
Mixed reviews
Each recipe includes its AAFCO nutrient profile: Growth (kitten), Maintenance (adult), All Life Stages, Supplemental or Unspecified.
The Blue Buffalo Wilderness wet product line includes 19 cat foods.
| Product line | Rating | AAFCO |
| --- | --- | --- |
| Adult Cat - Chicken | 5 | M |
| Adult Cat - Duck | 5 | M |
| Adult Cat - Turkey | 5 | M |
| Adult Cat - Salmon | 5 | M |
| Adult Cat - Wild Delights - Meaty Morsels - Chicken and Turkey | 5 | M |
| Adult Cat - Wild Delights - Meaty Morsels - Chicken and Salmon | 5 | M |
| Adult Cat - Wild Delights - Meaty Morsels - Chicken and Trout | 5 | M |
| Adult Cat - Wild Delights - Minced - Chicken and Turkey | 5 | M |
| Adult Cat - Wild Delights - Minced - Chicken and Trout | 5 | M |
| Adult Cat - Wild Delights - Flaked - Chicken and Turkey | 5 | M |
| Adult Cat - Wild Delights - Flaked - Chicken and Trout | 5 | M |
| Mature Cat - Chicken | 5 | M |
| Kitten - Chicken | 5 | G |
| Kitten - Salmon | 5 | G |
| Kitten - Flaked Chicken and Trout | 5 | G |
| Adult Cat - Rocky Mountain Recipe - Trout Feast | 5 | G |
| Adult Cat - Rocky Mountain Recipe - Red Meat Feast | 5 | M |
| Adult Cat - Rocky Mountain Recipe - Flaked Trout Feast | 5 | M |
| Adult Cat - Rocky Mountain Recipe - Flaked Red Meat Feast | 5 | M |
with Autoship
See discount in cart
Recipe and Label Analysis
Blue Buffalo Wilderness Adult Chicken wet food was selected to represent the other products in the line for a detailed recipe and nutrient analysis.
Label and nutrient data below are calculated using dry matter basis.
Blue Buffalo Wilderness Adult Cat Chicken (Wet)
Estimated Dry Matter Nutrient Content
Chicken, chicken broth, chicken liver, potatoes, natural flavor, flaxseed, guar gum, potassium chloride, carrageenan, cassia gum, taurine, choline chloride, salt, iron amino acid chelate, zinc amino acid chelate, Vitamin E supplement, thiamine mononitrate (Vitamin B1), copper amino acid chelate, manganese amino acid chelate, sodium selenite, niacin supplement (Vitamin B3), calcium pantothenate (Vitamin B5), pyridoxine hydrochloride (Vitamin B6), riboflavin supplement (Vitamin B2), Vitamin A supplement, biotin (Vitamin B7), potassium iodide, Vitamin D3 supplement, Vitamin B12 supplement, folic acid (Vitamin B9)

Fiber (estimated dry matter content) = 1.5%
Red denotes any controversial items
Ingredients Analysis
The first ingredient is chicken. Chicken is considered "the clean combination of flesh and skin… derived from the parts or whole carcasses of chicken".1
Chicken is naturally rich in the 11 essential amino acids required by a cat to sustain life.
The second ingredient is chicken broth. Broths are of only modest nutritional value. Yet because they add both flavor and moisture to cat food, they are a common component in many wet products.
The third ingredient is chicken liver. This is an organ meat sourced from a named animal and thus considered a beneficial component.
The fourth ingredient is potatoes. Potatoes can be considered a gluten-free source of digestible carbohydrates. Yet with the exception of perhaps their caloric content, potatoes are of only modest nutritional value to a cat.
The fifth ingredient is natural flavor. According to AAFCO, natural flavors are ingredients derived from plant, animal or mined sources, not having been produced by or subject to chemically synthetic processes nor do they contain any additives or processing aids that are chemically synthetic.
The sixth ingredient is flaxseed, one of the best plant sources of healthy omega-3 fatty acids. Provided they've first been ground into a meal, flax seeds are also rich in soluble fiber.
However, flaxseed contains about 19% protein, a factor that must be considered when judging the actual meat content of this cat food.
The seventh ingredient is guar gum, a gelling or thickening agent found in many wet pet foods. Refined from dehusked guar beans, guar gum can add a notable amount of dietary fiber to any product.
From here the list goes on to include a number of other items. But to be realistic, ingredients located this far down the list (other than nutritional supplements) are not likely to affect the overall rating of the product.
However, this recipe contains sodium selenite, a controversial form of the mineral selenium. Sodium selenite appears to be nutritionally inferior to the more natural source of selenium found in selenium yeast.
It also contains carrageenan which is a gelatin-like thickening agent extracted from seaweed. Although carrageenan has been used as a food additive for hundreds of years, there appears to be some recent controversy regarding its long-term biological safety.
The article, The Carrageenan Controversy, published in Scientific American, does a good job of addressing this topic.
with Autoship
See discount in cart
Nutrient Analysis
Based on its ingredients alone, Blue Buffalo Wilderness Adult Cat Chicken looks like an above-average wet product and is high in protein too.
The dashboard displays an excellent dry matter protein reading of 45.5%, a fat level of 36.4% and an estimated carbohydrate level of 10.2%.
As a group, the brand features an average protein content of 47.3% and a mean fat level of 25.5%. Together these figures suggest a carbohydrate content of 19.2% for the overall product line, alongside a fat-to-protein ratio of 54%.
This means this Blue Buffalo Wilderness (Wet) product line contains average protein, and higher than average fat when compared to typical wet cat food.
Final Word
Blue Buffalo Wilderness Adult Cat Chicken recipe is an excellent source of high-quality protein and essential fatty acids, made with natural, wholesome ingredients free from grains, artificial colors, flavors or preservatives.
Has Blue Buffalo cat food been recalled in the past?
Yes, Blue Buffalo has had a few recalls. The most recent cat food recall was in November 2015, when a small number of Blue Kitty Yums cat treats were recalled due to reports of propylene glycol.
In 2007 there were also multiple cat food recalls. Blue Buffalo Blue Spa Select canned cat food and Blue Buffalo Spa Select Kitten dry food were both recalled in April due to Melamine.
The other recalls were for the following dog products:
Blue Wilderness Rocky Mountain Recipe Red Meat Dinner Wet Food (March 2017)
Blue Buffalo Homestyle Recipe Healthy Weight, Chicken Dinner With Garden Vegetables (February 2017)
Blue Buffalo dog food cups (February 2017)
Blue Buffalo Life Protection Formula Fish and Sweet Potato Recipe (May 2016)
One lot of Cub Size Wilderness Wild Chews Bones (November 2015)
Blue Buffalo dry dog food (October 2010)
Blue Buffalo Blue canned dog food and dog treats (April 2007)
You can view a complete list of all cat food recalls since 2021 here.
To stay on top of any cat food product recalls, sign up for our free email alerts, here.
About
Blue Buffalo's headquarters is in Wilton, Connecticut. It has two facilities, one in Missouri and a manufacturing plant in Indiana.
The company started from humble origins but is now owned by General Mills.
Sources
1
: Association of American Feed Control Officials
We uphold the highest editorial standards when creating the authoritative content pet parents rely on and trust.
Every piece of clinical content on the Cat Food Advisor is reviewed by our certified Veterinary Advisory Board, which consists of licensed veterinarians and medically certified specialists.
Our reviews are completely independent; we are not paid by any pet food company to promote their products favorably. We do not accept money, gifts, samples or other incentives in exchange for special consideration. For more information see our Disclaimer & Disclosure page.