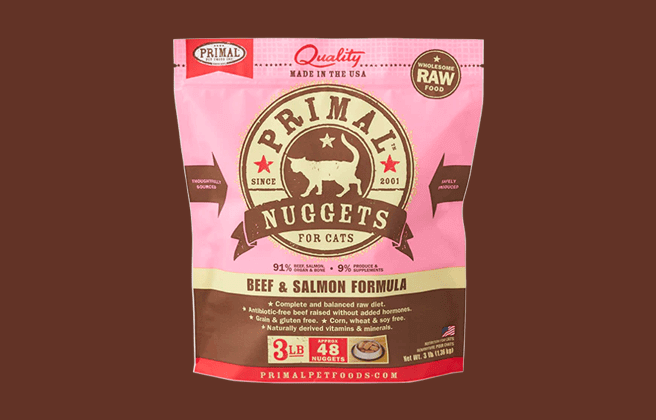 Primal Pet Food Raw Frozen Nuggets cat food receives the Cat Food Advisor highest rating, 5 stars.
This raw cat food range is made with real, human-grade meat such as fish, chicken, and turkey. Recipes are high in protein and free of grain and synthetic vitamins. They also contain organic vegetables.
Pros
High in protein
Human-grade recipes
No artificial vitamins or minerals
Organic ingredients
Cons
Not ideal for homes without a freezer
The brand has had a number of recalls
Defrosting may be inconvenient. Care must be taken when defrosting
Each recipe includes its AAFCO nutrient profile: Growth (kitten), Maintenance (adult), All Life Stages, Supplemental or Unspecified.
The product line includes seven cat foods.
| Product line | Rating | AAFCO |
| --- | --- | --- |
| Beef & Salmon | 5 | A |
| Chicken & Salmon | 5 | A |
| Duck | 5 | A |
| Pork | 5 | M |
| Rabbit | 5 | M |
| Turkey | 5 | M |
| Venison | 5 | M |
Recipe and Label Analysis
Primal Pet Foods Raw Frozen Nuggets Beef & Salmon were selected to represent the other products in the line for a detailed recipe and nutrient analysis.
Label and nutrient data below are calculated using dry matter basis.
Primal Raw Frozen Nuggets Beef & Salmon
Estimated Dry Matter Nutrient Content
Beef (with ground bone), beef liver, salmon, organic kale, organic squash, organic carrots, organic apples, organic pumpkin seeds, organic sunflower seeds, organic broccoli, organic parsley, organic blueberries, organic cranberries, organic apple cider vinegar, montmorillonite clay, fish oil, cod liver oil, organic coconut oil, dried yeast, taurine, salt, Vitamin E supplement, liquid lactobacillus acidophilus fermentation product, liquid lactobacillus casei fermentation product, liquid lactobacillus reuteri fermentation product, liquid bifidobacterium animalis fermentation product, organic ground alfalfa, dried organic kelp
Fiber (estimated dry matter content) = 2%
Red denotes any controversial items
Ingredients Analysis
The first ingredient is beef (with ground bone). Beef is defined as "the clean flesh derived from slaughtered cattle" and includes skeletal muscle or the muscle tissues of the tongue, diaphragm, heart or esophagus. 1
Beef is naturally rich in all 11 essential amino acids required by a cat to sustain life. Ground bone is an excellent source of natural calcium.
The second ingredient is beef liver. This is an organ meat sourced from a named animal and thus considered a beneficial component.
The third ingredient is salmon. Salmon is an oily marine and freshwater fish not only high in protein but also omega-3 fatty acids, essential oils needed by every cat to sustain life.
The fourth ingredient is organic kale, a type of cabbage in which the central leaves do not form a head. This dark green vegetable is especially rich in beta-carotene, vitamins C, vitamin K and calcium.
And like broccoli, kale contains sulforaphane, a natural chemical believed to possess potent anti-cancer properties.
The fifth ingredient is organic squash, a nutritious addition high in complex carbohydrates, vitamins, minerals and dietary fiber.
The sixth ingredient is organic carrots. Carrots are rich in beta-carotene, minerals and dietary fiber.
The seventh ingredient is organic apples, a nutrient-rich fruit that's also high in fiber.
The eighth ingredient is organic pumpkin seeds. Pumpkin seeds are rich in fiber, vitamins, minerals and, more importantly, linoleic acid — an essential omega-6 fat.
The ninth ingredient is organic sunflower seeds, a good source of plant-based fatty acids that are also rich in vitamins, minerals and dietary fiber.
The tenth ingredient is organic broccoli. Broccoli is a healthy green vegetable and a member of the kale family. It's notably rich in vitamin C and fiber and numerous other nutrients.
Like other cruciferous vegetables, broccoli is believed to provide anti-cancer benefits.
The eleventh ingredient is organic parsley. Due to its exceptional vitamin and mineral content, parsley exhibits a remarkably high nutrient Completeness Score of 91 2.
The twelfth and thirteenth ingredients are organic blueberries and organic cranberries. Both are a good source of vitamins, minerals and dietary fiber.
The fourteenth ingredient is organic apple cider vinegar. Organic Apple Cider Vinegar is reported to have benefits to health, from controlling blood sugar, balancing cholesterol and acting as an antimicrobial. Providing enzymes and probiotics is also a reason for inclusion.
It must be noted that there have been no studies so far which have found the inclusion of organic apple cider vinegar in the diets of cats to provide health benefits.
The fifteenth ingredient is montmorillonite clay, a naturally occurring compound rich in many trace minerals. Montmorillonite has been approved for use in USDA Organic Certified products.
Reported benefits include the binding of certain mold-based toxins and even controlling diarrhea and irritable bowel syndrome (IBS).
The sixteenth and seventeenth ingredients are fish oil and cod liver oil. Fish oil is naturally rich in the prized EPA and DHA types of omega-3 fatty acids. These two high-quality fats boast the highest bio-availability to dogs and humans. Cod liver oil is known to be rich in both EPA and DHA omega-3 fatty acids as well as vitamins A and D.
Depending on its level of freshness and purity, fish oil should be considered a commendable addition.
The eighteenth ingredient is organic coconut oil, a natural oil rich in medium-chain fatty acids.
The nineteenth ingredient is dried yeast. Dried yeast can be a controversial item. Dried yeast contains about 45% protein and is rich in other healthy nutrients.
Fans believe yeast repels fleas and supports the immune system.
Critics argue yeast ingredients can be linked to allergies. This may be true, but (like all allergies) only if your particular cat is allergic to the yeast itself.
Unless your cat is specifically sensitive to it, we feel yeast should be considered a beneficial dietary addition.
From here the list goes on to include a number of other items. But to be realistic, ingredients located this far down the list (other than nutritional supplements) are not likely to affect the overall rating of the product.
Since this recipe contains a number of organic ingredients, we feel compelled to grant this line a more favorable status as we consider its final rating.
That's because organic ingredients must comply with notably more stringent government standards — standards which significantly restrict the use of any synthetic pesticides, herbicides, insecticides, hormones or antibiotics.
We also note the inclusion of dried fermentation products in this recipe. Fermentation products are typically added as probiotics to aid with digestion.
Nutrient Analysis
Based on its ingredients alone, Primal Raw Frozen Nuggets Beef & Salmon looks like an above-average raw product and is high in protein too.
The dashboard displays a dry matter protein reading of 50%, a fat level of 26.9% and an estimated carbohydrate level of 15.1%.
As a group, the brand features an above-average protein content of 55.8% and a mean fat level of 23.9%. Together these figures suggest a carbohydrate content of 54.8% for the overall product line, alongside a fat-to-protein ratio of 44%.
This means the Primal Raw Frozen Nuggets product line contains higher than average protein, above-average fat and above-average carbohydrate content when compared to typical raw cat food.
Final Word
Primal Pet Foods Frozen Nuggets Beef & Salmon recipe is an excellent source of high-quality protein and nutrients. It is made with natural, organic ingredients free from grains, carrageenan, artificial colors, flavors or preservatives.
Has Primal Pet Foods cat food been recalled in the past?
Yes, Primal Pet Foods Inc. has had a number of recalls.
Since 2011 the following products have been recalled:
Single lot of Raw Frozen Primal Patties for Dogs (2022)
Primal Canine and Feline Freeze-dried Poultry Formulas (2017)
Feline Turkey Raw Frozen Formula (2015)
Feline Chicken & Salmon Formula (2011)
You can view a complete list of all cat food recalls since 2021 here.
To stay on top of any cat food product recalls, sign up for our free email alerts, here.
About
Primal Pet Foods Inc. is based in Fairfield, California. It was founded in 2000 by Matt Koss and acquired by Kinderhook Industries, LLC. in 2021.
Kinderhook owns Prairie Dog Pet Products, Himalayan and Holistic Hound, and will combine all four brands under a new name, Primal Pet Group.
All Primal Pet Foods products are manufactured in Fairfield, CA and Abilene, TX.
Sources
1
: Association of American Feed Control Officials
2
: Completeness Score is a measure of a food's relative nutrient content and is computed by NutritionData.com from the USDA's National Nutrient Database for Standard Reference
We uphold the highest editorial standards when creating the authoritative content pet parents rely on and trust.
Every piece of clinical content on the Cat Food Advisor is reviewed by our certified Veterinary Advisory Board, which consists of licensed veterinarians and medically certified specialists.
Our reviews are completely independent; we are not paid by any pet food company to promote their products favorably. We do not accept money, gifts, samples or other incentives in exchange for special consideration. For more information see our Disclaimer & Disclosure page.