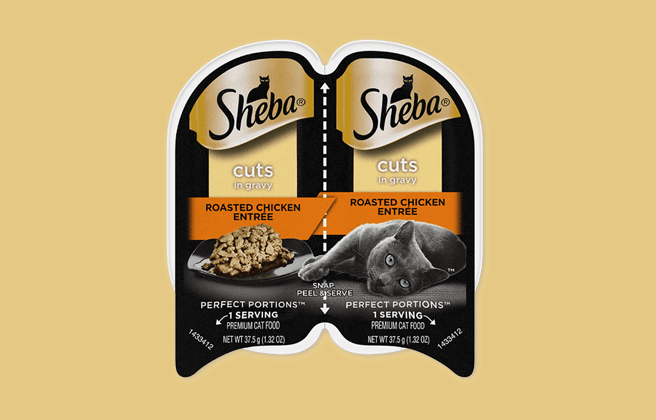 Sheba Perfect Portions Cuts in Gravy cat food receives the Cat Food Advisor average rating, 3 stars. 

Made with real protein, essential vitamins, and minerals. This wet cat food is made without grain or corn, and has no artificial flavors or preservatives.  

Pros
Four out of the top seven ingredients are animal-based
Rich in moisture to support hydration
Fish oil for omega 3
Each recipe includes its AAFCO nutrient profile: Growth (kitten), Maintenance (adult), All Life Stages, Supplemental or Unspecified.
The Cuts in Gravy product line includes 11 cat foods.
| Product line | Rating | AAFCO |
| --- | --- | --- |
| Delicate Whitefish & Tuna Entree | 3 | A |
| Gourmet Salmon & Seafood Entree | 3 | A |
| Gourmet Salmon Entree | 3 | A |
| Roasted Chicken & Beef Entree | 3 | A |
| Roasted Chicken Entree | 3 | A |
| Salmon & Shrimp Entree | 3 | A |
| Savory Mixed Grill Entree | 3 | A |
| Signature Tuna Entree | 3 | A |
| Tender Trout Entree | 3 | A |
| Tender Turkey Entree | 3 | A |
| Tuna & Shrimp Entree | 3 | A |
with Autoship
See discount in cart
Recipe and Label Analysis
Sheba Perfect Portions Cuts in Gravy Roasted Chicken Entree was selected to represent the other products in the line for a detailed recipe and nutrient analysis.
Label and nutrient data below are calculated using dry matter basis.
Sheba Perfect Portions Cuts in Gravy Roasted Chicken Entree
Estimated Dry Matter Nutrient Content
Water, chicken, poultry liver, animal plasma, tapioca starch, glycine, fish oil, potassium chloride, salt, natural flavor, magnesium sulfate, xanthan gum, sodium tripolyphosphate, caramel color, choline chloride, taurine, dl-methionine, thiamine mononitrate, vitamin E supplement, zinc sulfate, ferrous sulfate, manganese sulfate, copper sulfate, pyridoxine hydrochloride, potassium iodide, vitamin D3 supplement, folic acid, menadione sodium bisulfite complex
Fiber (estimated dry matter content) = 1%
Red denotes any controversial items
Ingredients Analysis
The first ingredient is water which adds nothing but moisture to this food. Water is a routine finding in most wet cat foods.
The second ingredient is chicken. Chicken is considered "the clean combination of flesh and skin derived from the parts or whole carcasses of chicken". 1
Chicken is naturally rich in the 11 essential amino acids required by a cat to sustain life.
The third ingredient is poultry liver. This is an organ meat sourced from a named animal and thus considered a beneficial component.
The fourth ingredient is animal plasma. Plasma is what remains of blood after the blood cells themselves have been removed.  In most cases, plasma can be considered a nutritious addition.  
However, since there's no mention of a specific animal in the name of this particular ingredient, this item could be sourced from any species. And that fact can make it difficult to isolate the cause of a cat's food-based allergy.  For this reason, we do not consider generic animal plasma a quality ingredient.

The fifth ingredient is tapioca starch which is gluten-free, starchy carbohydrate extract made from the root of the cassava plant.
The sixth ingredient is glycine. Glycine is an amino acid. This is usually included to improve protein quality of the food. Glycine is seen as a positive addition to this food.

The seventh ingredient is fish oil. Fish oil is naturally rich in the prized EPA and DHA types of omega-3 fatty acids. These two high-quality fats boast the highest bioavailability to dogs and humans.  Depending on its level of freshness and purity, fish oil should be considered a commendable addition.
The eighth ingredient is potassium chloride, which is a nutritional supplement sometimes used as a replacement for the sodium found in table salt.
From here the list goes on to include a number of other items. But to be realistic, ingredients located this far down the list (other than nutritional supplements) are not likely to affect the overall rating of the product.
with Autoship
See discount in cart
Nutrient Analysis
Based on its ingredients alone, Sheba Perfect Portions Cuts Roasted Chicken Entree looks like an average wet product.
The dashboard displays a dry matter protein reading of 43.8%, a fat level of 15.6% and an estimated carbohydrate level of 32.6%.
As a group, the brand features an above-average protein content of 43.8% and near-average fat level of 15.6%. Together these figures suggest a carbohydrate content of 32.6% for the overall product line, alongside a fat-to-protein ratio of 36%.
This means that this Sheba Perfect Portions Cuts product line contains higher than average protein, near average fat and near average carbohydrate when compared to typical wet cat food.
Final Word
Sheba Perfect Portions Cuts is an average-quality wet cat food product made with a fresh source of animal protein.  It is high in meat content and made without grain, corn, wheat, or soy.
About
Sheba is a cat food brand created and manufactured by Mars, Inc., the world's highest-earning pet food company. In addition to Sheba, Mars owns and manufactures more than 40 pet brands, including Whiskas, Royal Canin, Iams, and Crave.

Most Sheba cat food is manufactured in the United States. Its Signature Broths line is made in Thailand and Sheba Meaty Tender Sticks treats are made in Austria.

Sheba doesn't specify exactly where all of its ingredients are sourced. Like all Mars brands and subsidiaries, Sheba participates in Mars' Responsible Sourcing program and holds suppliers to the Mars Supplier Code of Conduct.
Sources
1
: Association of American Feed Control Officials
We uphold the highest editorial standards when creating the authoritative content pet parents rely on and trust.
Every piece of clinical content on the Cat Food Advisor is reviewed by our certified Veterinary Advisory Board, which consists of licensed veterinarians and medically certified specialists.
Our reviews are completely independent; we are not paid by any pet food company to promote their products favorably. We do not accept money, gifts, samples or other incentives in exchange for special consideration. For more information see our Disclaimer & Disclosure page.