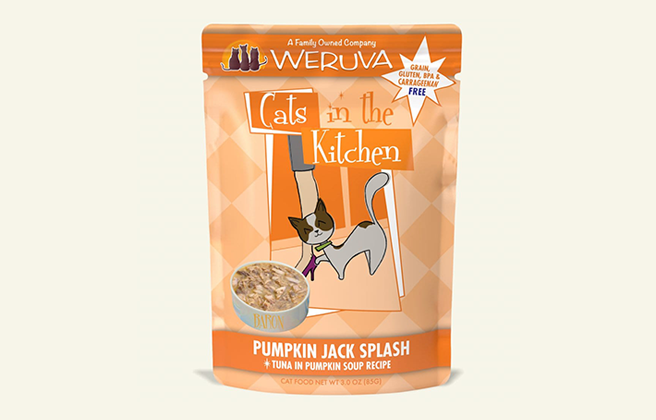 Weruva Cats in the Kitchen wet cat food receives the Cat Food Advisor highest rating, 5 stars.
This range is made with real, human-grade animal ingredients such as fish, chicken, and lamb. Recipes are high in protein and focus on providing your cat with a high-moisture diet. They are also free of grain, gluten and carrageenan.
Pros
High in protein
Human-grade recipes
Moisture-rich food promotes healthy hydration
Free from artificial ingredients
Cons
Lower than average fiber
Complex product names may be confusing
High number of fish recipes which some cats may not like
Each recipe includes its AAFCO nutrient profile: Growth (kitten), Maintenance (adult), All Life Stages, Supplemental or Unspecified.
The product line includes 16 cat foods.
| Product line | Rating | AAFCO |
| --- | --- | --- |
| Pumpkin Jack Splash - Tuna in Pumpkin Soup | 5 | M |
| Pumpkin Lickin' Chicken - Chicken in Pumpkin Soup | 5 | U |
| 1 if By Land, 2 if By Sea - Tuna, Beef & Salmon in Gravy | 5 | M |
| Mack, Jack & Sam - Salmon, Mackerel & Skipjack Tuna in Gravy | 5 | M |
| Love Me Tender - Chicken & Duck in Gravy | 5 | M |
| Chick Magnet - Chicken & Mackerel in Gravy | 5 | M |
| Two Tu Tango - Sardine, Tuna and Turkey Recipe Au Jus | 5 | U |
| La Isla Bonita - Mackerel and Shrimp Recipe Au Jus | 5 | U |
| Goldie Lox - Chicken and Salmon Recipe Au Jus | 5 | U |
| Splash Dance - Chicken and Ocean Fish Recipe Au Jus | 5 | U |
| Lamb Burger-ini - Lamb Recipe Au Jus | 5 | U |
| Kitty Gone Wild - Wild Salmon Recipe Au Jus | 5 | U |
| Funk in the Trunk - Chicken Recipe in Pumpkin Consomme | 5 | U |
| The Double Dip - Chicken and Beef Recipe Au Jus | 5 | U |
| Fowl Ball - Chicken and Turkey Recipe Au Jus | 5 | U |
| Chicken Frick 'A Zee - Chicken Recipe Au Jus | 5 | U |
with Autoship
See discount in cart
Recipe and Label Analysis
Weruva Cats in the Kitchen Pumpkin Jack Splash was selected to represent the other products in the line for a detailed recipe and nutrient analysis.
Label and nutrient data below are calculated using dry matter basis.
Weruva Cats in the Kitchen Pumpkin Jack Splash
Estimated Dry Matter Nutrient Content
Fish broth, tuna, pumpkin, tapioca starch, sunflower seed oil, calcium lactate, tricalcium phosphate, xanthan gum, choline chloride, taurine, zinc sulfate, Vitamin E supplement, nicotinic acid (Vitamin B3), ferrous sulfate, thiamine mononitrate (Vitamin B1), manganese proteinate, calcium pantothenate, Vitamin A supplement, riboflavin supplement (Vitamin B2), pyridoxine hydrochloride (Vitamin B6), folic acid, copper sulfate, potassium iodide, menadione sodium bisulfite complex (source of Vitamin K), biotin, Vitamin B12 supplement
Fiber (estimated dry matter content) = 0.5%
Red denotes any controversial items
Ingredients Analysis
The first ingredient is fish broth. Broths are of only modest nutritional value. Yet because they add both flavor and moisture to a cat food, they are a common component in many wet products.
The second ingredient is tuna. Tuna is an oily marine fish not only high in protein but also omega-3 fatty acids, essential oils needed by every cat to sustain life.
This item is typically sourced from clean, undecomposed whole fish and fish cuttings of commercial fish operations.1
The third ingredient is pumpkin. Pumpkin is a nutritious addition high in complex carbohydrates, beta-carotene and dietary fiber.
The fourth ingredient is tapioca starch, a gluten-free, starchy carbohydrate extract made from the root of the cassava plant.
The fifth ingredient is sunflower seed oil. Sunflower seeds are a good source of plant-based fatty acids that are also rich in vitamins, minerals and dietary fiber.
Sunflower oil is nutritionally similar to safflower oil. Since these oils are high in omega-6 fatty acids and contain no omega-3's, they're considered less nutritious than canola or flaxseed oils.
Sunflower oil is notable for its resistance to heat damage during cooking.
There are several different types of sunflower oil, some better than others. Without knowing more, it's impossible to judge the quality of this ingredient.
The sixth ingredient is calcium lactate, a calcium additive made by the action of lactic acid and calcium carbonate. The ingredient is most likely used here as a calcium supplement prized for its notably high bio-availability.
The seventh ingredient is tricalcium phosphate, a beneficial source of calcium and phosphorus. In addition, this additive is used in wet foods as an emulsifier — an agent designed to disperse a food's fats more evenly in water.
The eighth ingredient is xanthan gum. Xanthan gum is a food additive used here as a thickener to create gravy-like consistency.
From here the list goes on to include a number of other items. But to be realistic, ingredients located this far down the list (other than nutritional supplements) are not likely to affect the overall rating of the product.
The lack of controversial ingredients in this recipe would suggest it is of high-quality.
with Autoship
See discount in cart
Nutrient Analysis
Based on its ingredients alone, Weruva Cats in the Kitchen Pumpkin Jack Splash looks like an above-average wet product and is high in protein too.
The dashboard displays a dry matter protein reading of 60%, a fat level of 9.3% and an estimated carbohydrate level of 22.7%.
As a group, the brand features an above-average protein content of 62.3% and a mean fat level of 12%. Together these figures suggest a carbohydrate content of 17.7% for the overall product line, alongside a fat-to-protein ratio of 19%.
This means the Weruva Cats in the Kitchen product line contains higher than average protein, average fat and below-average carbohydrate content when compared to typical wet cat food.
Final Word
Weruva Cats in the Kitchen range offers cats an excellent source of high-quality protein and essential fatty acids. They are made from natural, wholesome ingredients free from grains, carrageenan, artificial colors, flavors or preservatives.
About
Weruva Inc. company's headquarters is in Natick, Massachusetts, but the food is manufactured in Thailand.
It was founded in 2006 by David and Stacie Forman and is still family-owned.
Sources
1
: 1. Adapted by The Cat Food Advisor from the official definition of other fish ingredients as published by the Association of American Feed Control Officials
We uphold the highest editorial standards when creating the authoritative content pet parents rely on and trust.
Every piece of clinical content on the Cat Food Advisor is reviewed by our certified Veterinary Advisory Board, which consists of licensed veterinarians and medically certified specialists.
Our reviews are completely independent; we are not paid by any pet food company to promote their products favorably. We do not accept money, gifts, samples or other incentives in exchange for special consideration. For more information see our Disclaimer & Disclosure page.