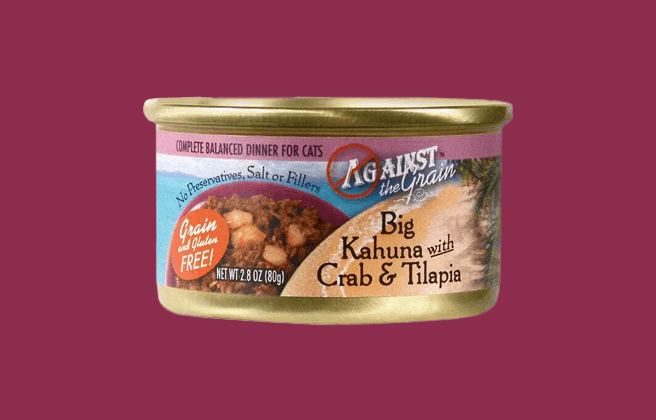 Against the Grain Original wet cat food range receives the Cat Food Advisor rating: 4 stars.
All recipes are grain-free with meat or fish as the first ingredient. The ingredients used are whole foods, and even the "flavoring" is from natural fruits, vegetables, and meats.
Pros
Non-GMO
No corn, wheat or soy
Grain and gluten-free
Quality-proteins
Cons
Limited choice of flavors
Contains palm oil
Each recipe includes its AAFCO nutrient profile: Growth (kitten), Maintenance (adult), All Life Stages, Supplemental or Unspecified.
The Against the Grain Original wet product line contains seven wet cat foods.
| Product line | Rating | AAFCO |
| --- | --- | --- |
| Big Kahuna with Crab & Talapia | 4 | U |
| Aloha Tuna with Seaweed & Crab | 4 | U |
| Bimini Brunch with Krill & Egg | 4 | U |
| Shrimp Daddy with Tuna & Salmon | 4 | U |
| Captain's Catch with Sardine & Mackerel | 4 | U |
| Caribbean Club with Chicken & Cheese | 4 | U |
| Chicken & Pumpkin Samba | 4 | U |
with Autoship
See discount in cart
Recipe and Label Analysis
Against the Grain Original Big Kahuna with Crab & Tilapia was selected to represent the other products in the line for a detailed recipe and nutrient analysis.
Label and nutrient data below are calculated using dry matter basis.
Against the Grain Original Big Kahuna with Crab & Tilapia
Estimated Dry Matter Nutrient Content
Tuna, water sufficient for processing, tilapia, crab, palm oil, tricalcium phosphate, cellulose fiber, xanthan gum, taurine, ferrous sulfate monohydrate, zinc sulfate heptahydrate, vitamin E supplement, niacin, vitamin A supplement, thiamine mononitrate, vitamin D3 supplement, manganese sulfate monohydrate, copper sulfate pentahydrate, pantothenic acid, riboflavin supplement, choline chloride, pyridoxine hydrochloride, dicalcium phosphate, folic acid, potassium iodide, potassium chloride, magnesium sulfate monohydrate, biotin, sodium selenite, vitamin B12 supplement
Fiber (estimated dry matter content) = 0.5%
Red denotes any controversial items
Ingredients Analysis
The first ingredient is tuna. Tuna is an oily marine fish not only high in protein but also omega-3 fatty acids, essential oils needed by every cat to sustain life.
This item is typically sourced from clean, undecomposed whole fish and fish cuttings of commercial fish operations. 1
The second ingredient is water, which adds nothing but moisture to this food. Water is a routine finding in most wet cat foods.
The third ingredient is tilapia, a group of freshwater fish inhabiting brackish, slow moving water. Tilapia has a mild taste. As fast growing, omnivorous fish Mercury does not accumulate within Tilapia, so they have low Mercury levels which is a benefit.
Tilapia is naturally rich in the eleven essential amino acids required by a cat to sustain life. Omega 3 is lower in Tilapia than in many other fish species, so Tilapia fish does not provide the same omega 3 nutritional benefits as other fish.
The fourth ingredient is crab. Crab is a source of protein, and of the 11 amino acids needed to sustain life. It is a lean meat, and is lower in Mercury than many other seafoods. Crab meat can contain considerable levels of Cadmium, and also has a high contribution of sodium.
The fifth ingredient is palm oil. Palm oil is a source of fats within cat food. We value vegetable based oils less highly than animal fats for cats. Palm oil has a higher proportion of saturated fat than other vegetable fats (such as sunflower, rapeseed or olive oils). It does contain greater vitamin E than olive and rapeseed oils. Fatty acids contributed from palm oil are primarily omega 6. The omega 3 contribution is negligible.
The sixth ingredient is tricalcium phosphate, a beneficial source of calcium and phosphorus. In addition, this additive is used in wet foods as an emulsifier — an agent designed to disperse a food's fats more evenly in water.
The seventh ingredient is cellulose fiber, a non-digestible plant fiber usually made from the by-products of vegetable or wood processing.  Powdered cellulose provides no nutritional value to a cat, although the fiber it provides does convey health benefits. Some powdered cellulose products work to reduce the occurrence of hairballs in cats.  
The eighth ingredient is xanthan gum, a food additive used here as a thickener to create gravy-like consistency.
From here the list goes on to include a number of other items. But to be realistic, ingredients located this far down the list (other than nutritional supplements) are not likely to affect the overall rating of the product.
However, this recipe contains sodium selenite, a controversial form of the mineral selenium. Sodium selenite appears to be nutritionally inferior to the more natural source of selenium found in selenium yeast.
with Autoship
See discount in cart
Nutrient Analysis
Based on its ingredients alone, Against the Grain Original Big Kahuna with Crab & Tilapia looks like an above-average wet product.
The dashboard displays a dry matter protein reading of 66.7%, a fat level of 11.1% and an estimated carbohydrate level of 14.2%.
As a group, the brand features an average protein content of 65.1% and a mean fat level of 11.2%. Together these figures suggest a carbohydrate content of 15.7% for the overall product line, alongside a fat-to-protein ratio of 17%.
This means the Against the Grain Original wet product line contains above-average protein, near-average carbs and near-average fat when compared to typical wet cat food.
Final Word
Against the Grain foods are minimally processed, and all processing methods are designed to ensure that the integrity of the proteins, vitamins, and natural enzymes are maintained. Each recipe uses fresh ingredients and all recipes are grain and gluten-free.
Has Against the Grain cat food been recalled in the past?
Yes, there has been one recorded recall for Against the Grain.
In 2017, the company – which also owns Evanger's – voluntarily expanded its recall of its dog food products: Against the Grain's Pulled Beef, Evanger's Hunk of Beef and Braised Beef food, due to potential adulteration with pentobarbital.  
For more information about this recall, visit the Dog Food Advisor.
You can view a complete list of all cat food recalls since 2021 here.
To stay on top of any cat food product recalls, sign up for our free email alerts, here.
About
Against the Grain was created by twins Brett and Chelsea Sher. The twins started their careers in the pet food industry in 2003, when their parents took over the Evanger's pet food company. Evanger's is a well-established private label manufacturer also known for its pet food brand of the same name.
Sources
1
: Adapted by The Cat Food Advisor from the official definition of other fish ingredients as published by the Association of American Feed Control Officials
We uphold the highest editorial standards when creating the authoritative content pet parents rely on and trust.
Every piece of clinical content on the Cat Food Advisor is reviewed by our certified Veterinary Advisory Board, which consists of licensed veterinarians and medically certified specialists.
Our reviews are completely independent; we are not paid by any pet food company to promote their products favorably. We do not accept money, gifts, samples or other incentives in exchange for special consideration. For more information see our Disclaimer & Disclosure page.