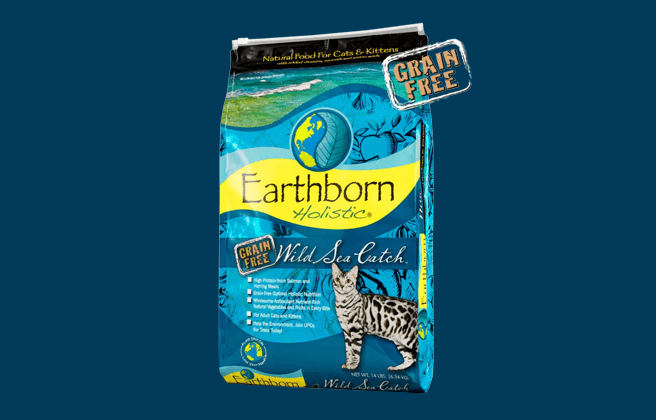 Earthborn Holistic dry cat food receives the Cat Food Advisor rating of 3.5 stars.
This cat food range is formulated with wholesome ingredients such as chicken and fruits and vegetables. It provides complete nutrition and a balanced diet without the use of grains, artificial colors, flavors or preservatives.
Pros
Contains good meat-based protein
Chelated minerals
High protein levels
Contains probiotics
High in fat
Cons
Contains pea protein and other plant-based protein
Low moisture content
Each recipe includes its AAFCO nutrient profile: Growth (kitten), Maintenance (adult), All Life Stages, Supplemental or Unspecified.
The Earthborn Holistic product line includes two dry cat foods.
| Product line | Rating | AAFCO |
| --- | --- | --- |
| Wild Sea Catch | 3.5 | A |
| Primitive Feline | 3.5 | A |
with Autoship
See discount in cart
Recipe and Label Analysis
Earthborn Holistic Wild Sea Catch recipe was selected to represent the other products in the line for a detailed recipe and nutrient analysis.
Label and nutrient data below are calculated using dry matter basis.
Wild Sea Catch recipe
Estimated Dry Matter Nutrient Content
Menhaden fish meal, whitefish meal, peas, pea protein, pea starch, canola oil (preserved with mixed tocopherols), eggs, natural flavors, flaxseed, pea fiber, apples, blueberries, cranberries, carrots, spinach, taurine, l-lysine, dl-methionine, l-carnitine, beta-carotene and probiotics. Vitamin A, vitamin D3, vitamin C, vitamin E, copper sulfate, omega 6, omega 3, dl methionine, l-lysine, taurine, l-carnitine, beta-carotene, DHA, sodium, calcium, phosphorus, magnesium
Fiber (estimated dry matter content) = 2.5%
Red denotes any controversial items
Ingredients Analysis
The first and second ingredients are menhaden fish meal and whitefish meal.  
Menhaden are small ocean fish related to herring. They're rich in protein and omega-3 fatty acids.  What's more, in their mid-depth habitat, menhaden are not exposed to mercury contamination as can be typical with deep water species.  
Whitefish are a marine or freshwater species native to Canada and the California coast.  
Because fish meal is considered a meat concentrate, it contains almost 300% more protein than fresh fish itself.
Fish meal is typically obtained from the "clean, dried, ground tissue of undecomposed whole fish and fish cuttings" of commercial fish operations. 1
The third ingredient is peas. Peas are a quality source of carbohydrates. And like all legumes, they're rich in natural fiber.
However, peas contain about 25% protein, a factor that must be considered when judging the meat content of this cat food.
The fourth ingredient is pea protein, what remains of a pea after removing the starchy part of the vegetable.  
Even though it contains over 80% protein, this ingredient would be expected to have a lower biological value than meat.  
And less costly plant-based products like this can notably boost the total protein reported on the label — a factor that must be considered when judging the meat content of this cat food.

The fifth ingredient is pea starch, a paste-like, gluten-free carbohydrate extract probably used here as a binder for making kibble. Aside from its energy content (calories), pea starch is of only modest nutritional value to a cat.

The sixth ingredient is canola oil.  Unfortunately, canola can be a controversial item. That's because it can sometimes (but not always) be derived from genetically modified rapeseed.  
Yet others cite the fact that canola oil can be a significant source of  omega-3 fatty acids.  
In any case, plant-based oils like canola are less biologically available to a cat than fish oil as a source of quality omega-3 fats.

The seventh ingredient is eggs.  Eggs are easy to digest and have an exceptionally high biological value.

The eighth ingredient is natural flavors.  Natural flavors doesn't give us much information about the particular ingredients included in this cat food for flavoring purposes.  
We're pleased that the flavorings used are natural, but more details are required to give any further information about these natural flavoring ingredients. Flavorings are used to make the foods more appealing and tasty for our cats.
From here the list goes on to include a number of other items. But to be realistic, ingredients located this far down the list (other than nutritional supplements) are not likely to affect the overall rating of the product.
Recipe star rating 3.5.
with Autoship
See discount in cart
Nutrient Analysis
Based on its ingredients alone, Earthborn Holistic Wild Sea Catch recipe looks like an average wet product.
The dashboard displays a dry matter protein reading of 44.4%, a fat level of 20% and an estimated carbohydrate level of 27.6%.
As a group, the brand features an above-average protein content of 44.4% and an above-average fat level of 20%. Together these figures suggest a carbohydrate content of 27.6% for the overall product line, alongside a fat to protein ratio of 45%.
This means the Earthborn Holistic product line contains higher than average protein, near average carbohydrate and higher than average fat, when compared to typical dry cat food.
Final Word
Earthborn Holistic dry cat food provides complete nutrition and a balanced diet without the use of grains, artificial colors, flavors or preservatives.
It is formulated to meet the nutritional levels established by the AAFCO cat food nutrient profiles for all life stages.
Has Earthborn Holistic cat food been recalled in the past?
Yes.
In 2021, Midwestern Pet Foods, Evansville, Indiana issued a voluntary recall of specific expiration dates of certain dog and cat food brands including CanineX, Earthborn Holistic, Venture, Unrefined, Sportmix Wholesomes, Pro Pac, Pro Pac Ultimates, Sportstrail, Sportmix and Meridian brands produced at its Monmouth, Illinois.  It was investigated by the FDA.
For more information about this recall, you can read this article.
You can view a complete list of all cat food recalls since 2021 here.
To stay on top of any cat food product recalls, sign up for our free email alerts, here.
About
The Earthborn Holistic cat food brand is owned by Midwestern Pet Foods.  It is a fourth generation, family-owned and operated business founded in 1926, in Indiana, as a small milling company.  
The company specializes in producing nutritional dog and cat food recipes, oven-baked biscuits, and treats.
Sources
1
: Association of American Feed Control Officials
We uphold the highest editorial standards when creating the authoritative content pet parents rely on and trust.
Every piece of clinical content on the Cat Food Advisor is reviewed by our certified Veterinary Advisory Board, which consists of licensed veterinarians and medically certified specialists.
Our reviews are completely independent; we are not paid by any pet food company to promote their products favorably. We do not accept money, gifts, samples or other incentives in exchange for special consideration. For more information see our Disclaimer & Disclosure page.