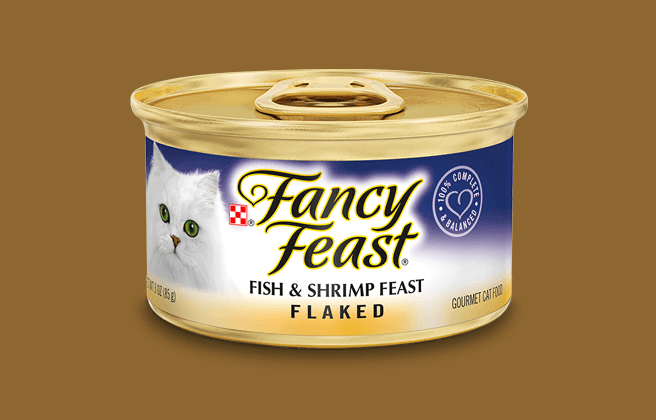 Fancy Feast Flaked Wet cat food receives a Cat Food Advisor rating of 3 stars.
It is formulated to meet the nutritional levels established by the AAFCO cat food nutrient profiles for all life stages.
Pros
Affordable
Good level of animal proteins
No artificial additives
Cons
The range contains by-products
Each recipe includes its AAFCO nutrient profile: Growth (kitten), Maintenance (adult), All Life Stages, Supplemental or Unspecified.
The Fancy Feast Dry product line includes six wet cat foods.
| Product line | Rating | AAFCO |
| --- | --- | --- |
| Flaked Fish & Shrimp Gourmet Wet Food | 3.5 | M |
| Flaked Tuna Gourmet Wet Food | 3 | A |
| Flaked Chicken & Tuna Gourmet Wet Food | 3 | A |
| Flaked Trout Gourmet Wet Food | 3 | A |
| Flaked Tuna & Mackerel Gourmet Wet Food | 3 | A |
| Natural White Meat Chicken & Flaked Tuna Wet Food in a Delicate Broth | 3.5 | M |
with Autoship
See discount in cart
Recipe and Label Analysis
Fancy Feast Flaked Fish & Shrimp Gourmet was selected to represent the other products in the line for a detailed recipe and nutrient analysis.
Label and nutrient data below are calculated using dry matter basis.
Fancy Feast Flaked Fish & Shrimp Gourmet
Estimated Dry Matter Nutrient Content
Ocean fish, fish broth, shrimp, vegetable oil, tricalcium phosphate, guar gum, choline chloride, vitamins, vitamin E supplement, niacin (vitamin B-3), vitamin A supplement' thiamine mononitrate (vitamin B-1), calcium pantothenate (vitamin B-5), pyridoxine hydrochloride (vitamin B-6, riboflavin supplement (vitamin B-2), biotin (vitamin B-7), vitamin B-12 supplement, menadione sodium bisulfite complex (vitamin K), folic acid (vitamin B-9), vitamin D-3 supplement, minerals, ferric pyrophosphate, zinc sulfate, copper sulfate, manganese sulfate, potassium iodide
Red denotes any controversial items
Ingredients Analysis
The first ingredient is ocean fish. This item is typically sourced from clean, undecomposed whole fish and fish cuttings of commercial fish operations. 1.
Unfortunately, the phrase "ocean fish" is vague and does little to adequately describe this ingredient. Since some fish are higher in omega-3 fats than others, it's impossible for us to judge the quality of this item. In any case, fish meat is naturally rich in the 11 essential amino acids required by a cat to sustain life.
The second ingredient is fish broth. Broths are of only modest nutritional value. Yet because they add both flavor and moisture to a cat food, they are a common component in many wet products.
The third ingredient is shrimp. Shrimp are small crustaceans closely related to krill. Shrimp is a rich source of many nutrients, including Iodine and Omega 3 fatty acids.
The fourth ingredient is vegetable oil, a generic oil of unknown origin. The ratio of omega-6 to omega-3 fats in any oil is nutritionally critical and can vary significantly (depending on the source). Without knowing more, it's impossible to judge the quality of an item so vaguely described. However, compared to a named animal fat, a generic vegetable oil cannot be considered a quality ingredient.
The fifth ingredient is tricalcium phosphate, a beneficial source of calcium and phosphorus. In addition, this additive is used in wet foods as an emulsifier — an agent designed to disperse a food's fats more evenly in water.
The sixth ingredient is guar gum, a gelling or thickening agent found in many wet pet foods. Refined from dehusked guar beans, guar gum can add a notable amount of dietary fiber to any product.
The seventh ingredient is choline chloride, an essential B vitamin that naturally occurs in both plants and animals. It is found in meat, eggs, fish, liver, soybeans and wheat germ. Because a cat cannot store choline chloride in its body, the nutrient must be replenished to avoid a deficiency. Choline chloride is a supplement required by both AAFCO and the FDA.
From here the list goes on to include a number of other items. But to be realistic, ingredients located this far down the list (other than nutritional supplements) are not likely to affect the overall rating of the product.
This recipe receives a 3-star rating.
with Autoship
See discount in cart
Nutrient Analysis
Based on its ingredients alone, Fancy Feast Flaked Fish & Shrimp Gourmet looks like an above-average wet product.
The dashboard displays a dry matter protein reading of 68.2%, a fat level of 9.1% and an estimated carbohydrate level of 14.7%.
As a group, the brand features an average protein content of 66.8% and a mean fat level of 14%. Together these figures suggest a carbohydrate content of 11.3% for the overall product line, alongside a fat-to-protein ratio of 21%.
This means the Fancy Feast Flaked product line contains above-average protein, below-average carbs and near-average fat when compared to typical wet cat food.
Final Word
Fancy Feast Flakes is an affordable wet cat food. Although it contains unnamed meat by-products, it redeem itself slightly as the first ingredient in all the recipes is always chicken or fish.
Has Purina Fancy Feast cat food been recalled in the past?
No, Fancy Feast cat food has never been recalled, but other Purina brands have been recalled multiple times.
The last one was in July 2021 when cans of Purina Pro Plan Complete Essentials Tuna Entree in Sauce Wet Cat Food were recalled as they may have contained plastic. Full details here
In March 2019, Purina issued a recall of one of its Muse cat foods.
In 2012, a single lot of Purina Veterinary Diets OM Overweight Management Feline Formula was recalled due to low levels of thiamine. Production Code #11721159.
In June 2011, Friskies issued a small recall due to the potential risk of salmonella contamination. This recall only affected a small range of Friskies products, – the Friskies Grillers Blend dry cat food recipe in 3.15lb and 16lb bags with best-by dates of August 2012.
In the same year, some other Purina dry cat foods were recalled due to suspected salmonella contamination. The products affected were: Purina ONE Vibrant Maturity 7+ dry cat food, 3.5 lb. and 7 lb. bags, with a "Best by" date of May 2012 and Production Code #03341084 or #03351084 and Purina Cat Chow Naturals, 6.3 lb., Production Code #10331083 13, with "Best by" date of August 2012.
You can view a complete list of all cat food recalls since 2021 here.
To stay on top of any cat food product recalls, sign up for our free email alerts, here.
About
Fancy Feast was created in 1982 and was likely the first cat food brand to capitalize on the gourmet concept, though it is now one of the cheaper brands on the market.
The brand is owned by Nestlé Purina PetCare which is an American subsidiary of the Swiss corporation Nestlé, based in St. Louis, Missouri. It produces and markets pet food, treats, cat and dog litter. 
The cat food brands owned by Purina are: Beyond, Breeze, DenaLife, Fancy Feast, Friskies, Kit & Kaboodle, Petivity, Purina Cat Chow, Purina ONE, Purina Pro Plan, Purina Pro Plan Veterinary Diets, Tidy Cats and Whisker Lickin's.
Sources
1
: Adapted by The Cat Food Advisor from the official definition of other fish ingredients as published by the Association of American Feed Control Officials
We uphold the highest editorial standards when creating the authoritative content pet parents rely on and trust.
Every piece of clinical content on the Cat Food Advisor is reviewed by our certified Veterinary Advisory Board, which consists of licensed veterinarians and medically certified specialists.
Our reviews are completely independent; we are not paid by any pet food company to promote their products favorably. We do not accept money, gifts, samples or other incentives in exchange for special consideration. For more information see our Disclaimer & Disclosure page.