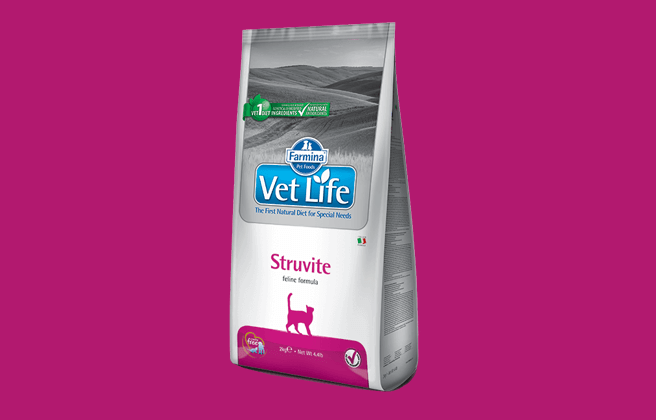 Farmina VetLife dry cat food receives the Cat Food Advisor rating, 4 stars.
This food is scientifically formulated for cats who need a specific diet to counter various disorders and the quality of the ingredients used help support digestion.
Pros
High quality ingredients used
Targets various disorders
Scientifically formulated, veterinary therapeutic diet for cats
Cons
Very expensive versus other dry cat foods
Only available via prescription
Low in moisture content
Each recipe includes its AAFCO nutrient profile: Growth (kitten), Maintenance (adult), All Life Stages, Supplemental or Unspecified.
The Farmina VetLife product line includes eight dry cat foods.
| Product line | Rating | AAFCO |
| --- | --- | --- |
| Gastrointestinal | 3.5 | S |
| Hepatic | 3.5 | S |
| Struvite | 3.5 | S |
| Struvite Management | 3.5 | S |
| Renal | 3.5 | S |
| Obesity | 4 | S |
| Diabetic | 4 | S |
| Ultrahypo | 3.5 | S |
with Autoship
See discount in cart
Recipe and Label Analysis
Farmina VetLife Struvite Feline recipe was selected to represent the other products in the line for a detailed recipe and nutrient analysis.
Label and nutrient data below are calculated using dry matter basis.
Farmina VetLife Struvite Feline recipe
Estimated Dry Matter Nutrient Content
Corn gluten, rice, dehydrated chicken protein, oats, chicken fat, hydrolysed fish protein, dried eggs, fish oil, dehydrated fish protein, potassium chloride, calcium sulphate dihydrate, calcium carbonate, inulin, fructo-oligosaccharides, yeast extract (source of manno-oligo-saccharides), sodium chloride. protein sources: corn gluten, dehydrated chicken protein, hydrolysed fish protein, dried eggs, dehydrated fish protein, vitamin A, vitamin D3, vitamin E, vitamin C, niacin, calcium d-pantothenate, vitamin B2, vitamin B6, vitamin B1, biotin, folic acid, vitamin B12, choline chloride, beta-carotene, zinc (zinc chelate of hydroxy analogue of methionine), manganese (manganese chelate of hydroxy analogue of methionine), iron [iron(ii) chelate of glycine hydrate], copper (copper chelate of hydroxy analogue of methionine), selenium (selenised yeast inactivated), iodine (calcium iodate anhydrous), taurine, dl-methionine, l-lysine- monohydrochloride, l-carnitine, tocopherol extracts from vegetable oils
Fiber (estimated dry matter content) = 1.2%
Red denotes any controversial items
Ingredients Analysis
The first ingredient is corn gluten.  Gluten is the rubbery residue remaining once corn has had most of its starchy carbohydrate washed out of it.
Although corn gluten meal contains 60% protein, this ingredient would be expected to have a lower biological value than meat.
And less costly plant-based products like this can notably boost the total protein reported on the label — a factor that must be considered when judging the actual meat content of this cat food.
The second ingredient is rice.  Is this whole grain rice, brown rice or white rice? Since the word "rice" doesn't tell us much, it's impossible to judge the quality of this item.
The third ingredient is dehydrated chicken protein.  Dehydrated chicken is considered a meat concentrate and contains more than four times as much protein as fresh chicken.
The fourth ingredient is oats.  Oats are rich in B-vitamins, minerals and dietary fiber.

The fifth ingredient is chicken fat.  Chicken fat is obtained from rendering chicken, a process similar to making soup in which the fat itself is skimmed from the surface of the liquid.
Chicken fat is high in linoleic acid, an omega-6 fatty acid essential for life. Although it doesn't sound very appetizing, chicken fat is actually a quality ingredient.

The sixth ingredient is hydrolyzed fish protein, a protein concentrate. Being hydrolyzed means that the fish has been chemically broken-down into its component amino acids. Hydrolyzed proteins are considered hypoallergenic as they are not identifiable by the body to trigger allergy reactions.
The seventh ingredient is dried eggs,  a dehydrated powder made from shell-free eggs. Eggs are easy to digest and have an exceptionally high biological value.

The eighth ingredient is fish oil.  Fish oil is naturally rich in the prized EPA and DHA type of omega-3 fatty acids. These two high quality fats boast the highest bioavailability to cats and humans. 
Depending on its level of freshness and purity, fish oil should be considered a commendable addition.
From here the list goes on to include a number of other items. But to be realistic, ingredients located this far down the list (other than nutritional supplements) are not likely to affect the overall rating of the product.
This food also contains chelated minerals that have been chemically attached to protein.  This makes them easier to absorb. Chelated minerals are usually found in better cat foods.
Recipe star rating 4
with Autoship
See discount in cart
Nutrient Analysis
Based on its ingredients alone, Farmina VetLife Struvite Feline recipe looks like an above-average dry product.
The dashboard displays a dry matter protein reading of 36.1%, a fat level of 17% and an estimated carbohydrate level of 38.9%.
As a group, the brand features a near average protein content of 36% and a near average fat level of 16.9%. Together these figures suggest a carbohydrate content of 39% for the overall product line, alongside a fat to protein ratio of 51%.
This means this Farmina VetLife range contains near average protein, higher than average carbohydrate, near average fat, when compared to typical dry cat food.
Final Word
Farmina VetLife dry recipes are made with precise formulations to address specific medical issues and for this reason veterinary authorization is required to ensure your pet's health is monitored whilst they are on the diet.  Therefore, you will need a valid prescription before you can buy this food.
The Cat Food advisor recommends this cat food.
About
Francesco Russo founded the Russo Mangimi company in 1965 specializing in animal nutrition.  In 1999, the company's focus shifted to the pet food industry with a new perspective of developing foods based on scientific studies focused on the well-being of pets.
The Mangimi company started to collaborate with Farmina, an English company specializing in food research and formulation. 
Mangima manufacturing facilities are based in Europe and Farmina foods are mostly sourced from Italy.  Some ingredients are sourced from Europe and New Zealand.
Sources
We uphold the highest editorial standards when creating the authoritative content pet parents rely on and trust.
Every piece of clinical content on the Cat Food Advisor is reviewed by our certified Veterinary Advisory Board, which consists of licensed veterinarians and medically certified specialists.
Our reviews are completely independent; we are not paid by any pet food company to promote their products favorably. We do not accept money, gifts, samples or other incentives in exchange for special consideration. For more information see our Disclaimer & Disclosure page.