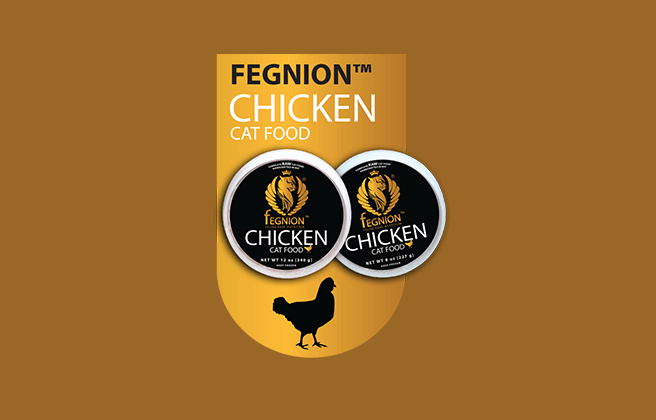 Fegnion frozen raw cat food receives the Cat Food Advisor rating, 5 stars
This range of food contains high levels of protein from quality meat sources, such as chicken, turkey and rabbit. Carbohydrate content is low and moisture levels are high and there are no additives, colors, or preservatives
Pros
High quality protein
Good quality meat providing most of the protein in this food
Low in carbohydrates
No colors, additives or preservatives
Cons
Expensive versus other cat foods
Need to defrost and store frozen
Each recipe includes its AAFCO nutrient profile: Growth (kitten), Maintenance (adult), All Life Stages, Supplemental or Unspecified.
The Fegnion product line includes three frozen raw cat foods.
| Product line | Rating | AAFCO |
| --- | --- | --- |
| Ultimate Raw Nutrition Chicken | 5 | A |
| Ultimate Raw Nutrition Turkey | 5 | A |
| Ultimate Raw Nutrition Rabbit | 5 | A |
Recipe and Label Analysis
Fegnion Ultimate Raw Nutrition Chicken recipe was selected to represent the other products in the line for a detailed recipe and nutrient analysis.
Label and nutrient data below are calculated using dry matter basis.
Fegnion Ultimate Raw Nutrition Chicken
Estimated Dry Matter Nutrient Content
Ground chicken, ground chicken bone, chicken heart, chicken liver, chicken gizzard, egg, water, salt, copper amino acid chelate, zinc amino acid chelate, vitamin E supplement, manganese amino acid chelate, thiamine hydrochloride
Fiber (estimated dry matter content) = 0.9%
Red denotes any controversial items
Ingredients Analysis
The first and second ingredients are ground chicken and ground chicken bone.  Chicken is considered "the clean combination of flesh and skin… derived from the parts or whole carcasses of chicken". 1
Chicken is naturally rich in the 11 essential amino acids required by a cat to sustain life. The ground bone is an excellent source of natural calcium.
The third ingredient is chicken heart. Although it doesn't sound very appetizing, heart tissue is pure muscle — all meat.  It's naturally rich in quality protein, minerals and complex B vitamins, too.
The fourth ingredient is chicken liver.  This is an organ meat sourced from a named animal and thus considered a beneficial component.

The fifth ingredient is chicken gizzard. The gizzard is a low-fat, meaty organ found in the digestive tract of birds and assists in grinding up a consumed food which can be considered a natural part of a feline diet.

The sixth ingredient is egg.  Eggs are easy to digest and have an exceptionally high biological value.

The seventh ingredient is water, which adds nothing but moisture to this food. Water is a routine finding in most wet cat foods.

The eighth ingredient is salt (also known as sodium chloride).  Salt is a common additive in many cat foods. That's because sodium is a necessary mineral for all animals — including humans. 
Salt can often be found in cat foods to promote cats to drink more water too. This is a means of increasing their hydration and diluting their urine which helps to reduce the likelihood of urinary stones forming.
However, since the actual amount of salt added to this recipe isn't disclosed on the list of ingredients, it's impossible to judge the nutritional value of this item.
From here the list goes on to include a number of other items. But to be realistic, ingredients located this far down the list (other than nutritional supplements) are not likely to affect the overall rating of the product.
However, we note, this food contains chelated minerals that have been chemically attached to protein.  This makes them easier to absorb. Chelated minerals are usually found in better cat foods.
Recipe star rating 5
Nutrient Analysis
Based on its ingredients alone, Fegnion Ultimate Raw Nutrition Chicken looks like an above-average frozen raw product.
The dashboard displays a dry matter protein reading of 60.7%, a fat level of 24.7% and an estimated carbohydrate level of 6.6%.
As a group, the brand features an above-average protein content of 62.3% and an above-average fat level of 23.4%. Together these figures suggest a carbohydrate content of 6.3% for the overall product line, alongside a fat to protein ratio of 36%.
This means this Fegnion cat food contains higher than average protein, lower than average carbohydrate and higher than average fat, when compared to typical wet (frozen raw) cat food.
Final Word
This range of cat food is very good quality.  It has high protein levels, almost all of which comes from good meat sources.  With no preservatives, colors, or additives, this food provides a very natural diet for your cat.
The Cat Food Advisor highly recommends this range of cat food.
About
Fegnion is a family owned and operated raw cat food company based in New York. It was founded in 2006 by Alma Dervisevic with a mission to create and provide the freshest and highest quality raw cat food available.
Sources
1
: Association of American Feed Control Officials
We uphold the highest editorial standards when creating the authoritative content pet parents rely on and trust.
Every piece of clinical content on the Cat Food Advisor is reviewed by our certified Veterinary Advisory Board, which consists of licensed veterinarians and medically certified specialists.
Our reviews are completely independent; we are not paid by any pet food company to promote their products favorably. We do not accept money, gifts, samples or other incentives in exchange for special consideration. For more information see our Disclaimer & Disclosure page.