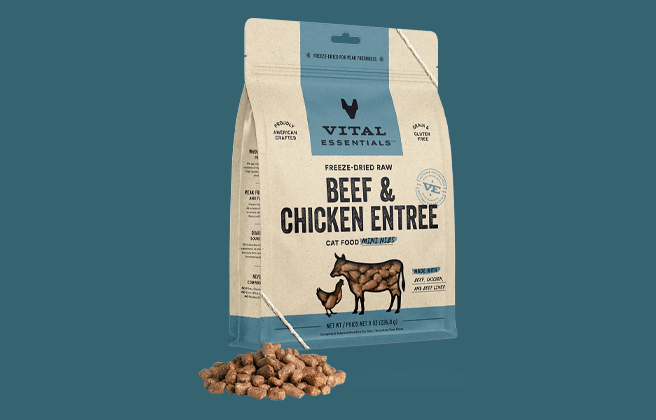 Vital Essentials Mini Nibs freeze-dried raw cat food receives the Cat Food Advisor's high rating, 4.5-stars.
Packed with protein, mini nibs contain naturally occurring vitamins and minerals that build strong muscles and support a cat's digestive and oral health.
The freeze drying process allows cat parents to feed their pets a raw diet without having to thaw the product.
Pros
High animal-sourced protein
No added hormones or antibiotics
No need to thaw
Grain and gluten free
Cons
Low moisture
Needs to be stored out of direct sunlight
Need transition period to raw food
Each recipe includes its AAFCO nutrient profile: Growth (kitten), Maintenance (adult), All Life Stages, Supplemental or Unspecified.
This product line includes six cat foods.
| Product line | Rating | AAFCO |
| --- | --- | --- |
| Beef & Chicken Entrée | 4.5 | A |
| Chicken Entrée | 4.5 | A |
| Duck Entrée | 4.5 | A |
| Pork Entrée | 4.5 | A |
| Rabbit Entrée | 4.5 | A |
| Turkey Entrée | 4.5 | A |
with Autoship
See discount in cart
Recipe and Label Analysis
Vital Essentials Mini Nibs Beef & Chicken Entrée was selected to represent the other products in the line for a detailed recipe and nutrient analysis.
Label and nutrient data below are calculated using dry matter basis
Vital Essentials Mini Nibs Beef & Chicken Entrée
Estimated Dry Matter Nutrient Content
Beef, chicken, beef liver, beef kidney, herring oil, mixed tocopherols (preservative), vitamin E supplement, zinc amino acid complex, iron amino acid complex, copper amino acid complex, manganese amino acid complex
Fiber (estimated dry matter content) = 6%
Red denotes any controversial items
Ingredients Analysis
The first ingredient is beef. Beef is defined as "the clean flesh derived from slaughtered cattle" and includes skeletal muscle or the muscle tissues of the tongue, diaphragm, heart or esophagus. 1
The second ingredient is chicken. Chicken is considered "the clean combination of flesh and skin… derived from the parts or whole carcasses of chicken". 2
Beef and chicken are naturally rich in the 11 essential amino acids required by a cat to sustain life.
The third and fourth ingredients are organ meats — beef liver and beef kidney. They may not sound very appetizing but organ meats are pure muscle and naturally rich in quality protein, minerals and complex B vitamins.
The fifth ingredient is herring oil, which is naturally rich in the prized EPA and DHA type of omega-3 fatty acids. These two high quality fats boast the highest bioavailability to cats and humans. Depending on its level of freshness and purity, herring oil should be considered a commendable addition.
The sixth ingredient is mixed tocopherols. Tocopherols are a family of compounds that together make up different forms of vitamin E which serves as an antioxidant. 
From here the list goes on to include a number of other items. But to be realistic, ingredients located this far down (other than nutritional supplements) are not likely to affect the overall rating of the product.
with Autoship
See discount in cart
Nutrient Analysis
Based on its ingredients alone, Vital Essentials Mini Nibs Beef & Chicken Entrée looks like an above-average product. 
The dashboard displays a dry matter protein reading of 41.3%, a fat level of 39.1% and an estimated carbohydrate level of 11.6%.
As a group, the brand features an average protein content of 52.7% and a mean fat level of 25.4%. Together these figures suggest a carbohydrate content of 13.9% for the overall product line, alongside a fat-to-protein ratio of 51%.
This means this Vital Essentials Mini Nibs product line contains above-average protein, below-average carbs and above-average fat.
Final Word
Vital Essentials Mini Nibs freeze-dried raw cat food is high in protein and essential fatty acids. Freeze-dried ingredients can be considered nutritionally superior to meat meals due to the gentleness of the process used to create them.
Has Vital Essentials cat food been recalled in the past?
Vital Essentials has had four product recalls in the past, all due to potential salmonella or listeria contamination.
However the most recent recall was back in April 2018 on its Freeze-Dried Beef Toppers (for dogs and cats), 6 oz. packages, Lot #13815, Best by June 4, 2019 or June 20, 2019.
The other recalls were for the following dog products:
Freeze-Dried Beef Nibblet Entrée (February 2018)

Frozen Chicken Patties Entrée (January 2016)

Frozen Beef Tripe (July 2015)
You can view a complete list of all cat food recalls since 2021 here.
To stay on top of any cat food product recalls, sign up for our free email alerts, here.
About
Vital Essentials is the flagship brand of Carnivore Meat Company – a leading manufacturer of raw frozen and freeze-dried pet foods and treats in America. The products are all US made and packaged in the company's Green Bay, Wisconsin, facility that is GFSI and EU certified.
The company consists of Vital Essentials and Nature's Advantage.
We uphold the highest editorial standards when creating the authoritative content pet parents rely on and trust.
Every piece of clinical content on the Cat Food Advisor is reviewed by our certified Veterinary Advisory Board, which consists of licensed veterinarians and medically certified specialists.
Our reviews are completely independent; we are not paid by any pet food company to promote their products favorably. We do not accept money, gifts, samples or other incentives in exchange for special consideration. For more information see our Disclaimer & Disclosure page.