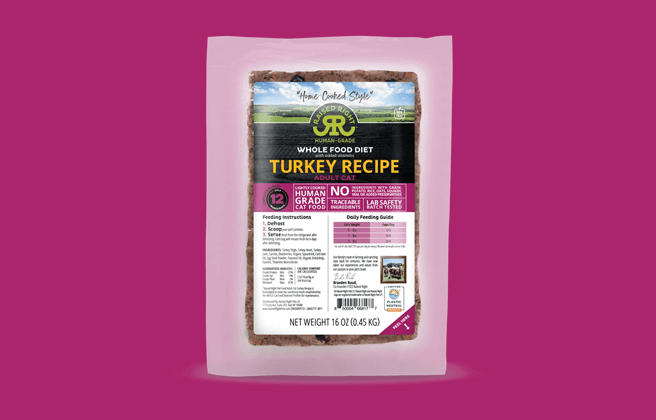 Raised Right Fresh cat food receives the Cat Food Advisor highest rating, 5-stars.
Made with limited, human-grade ingredients and low carbohydrate content, Raised Right fresh food is formulated with the help of veterinarian, Dr. Karen Becker.
Every batch is lab safety tested by Raised Right and has a high nutritional value which meets AAFCO's standards.
Pros
Human-grade ingredients
Excellent source of protein
Low in fat and carbohydrates
Each batch is lab safety tested
Free from artificial ingredients
Cons
Defrosting and storage of food is inconvenient for some
Each recipe includes its AAFCO nutrient profile: Growth (kitten), Maintenance (adult), All Life Stages, Supplemental or Unspecified.
The Raised Right fresh product line has four cat foods.
| Product line | Rating | AAFCO |
| --- | --- | --- |
| Original Turkey | 5 | M |
| Original Chicken | 5 | M |
| Turkey & Pumpkin Paté | 5 | M |
| Chicken & Pumpkin Paté | 5 | M |
Recipe and Label Analysis
Raised Right Original Turkey recipe was selected to represent the other products in the line for a detailed recipe and nutrient analysis.
Label and nutrient data below are calculated using dry matter basis.
Raised Right Original Turkey
Estimated Dry Matter Nutrient Content
Turkey Thigh, Turkey Heart, Turkey Liver, Carrots, Blueberries, Organic Spearmint, Cod Liver Oil, Egg Shell Powder, Flaxseed Oil, Organic Dried Kelp, Taurine, Thiamine Mononitrate
Fiber (estimated dry matter content) = 2%
Red denotes any controversial items
Ingredients Analysis
The first ingredient is turkey thigh. Turkey is considered "the clean combination of flesh and skin… derived from the parts or whole carcasses of turkey".1
Turkey is naturally rich in the 11 essential amino acids required by a cat to sustain life.
The second and third ingredients are turkey heart and turkey liver. This is an organ meat sourced from a named animal and thus considered a beneficial component.
The fourth ingredient is carrots. Carrots are rich in beta-carotene, minerals and dietary fiber.
The fifth ingredient is blueberries, a good source of vitamins, minerals and dietary fiber.
The sixth ingredient is organic spearmint. Although we can't be sure, it appears spearmint has been added to this recipe as a nutrient-rich source of multiple vitamins and minerals.
These natural antioxidants include vitamin A, vitamin B1 (thiamine), vitamin B6 (niacin), folic acid, phosphorus, zinc, riboflavin, calcium, iron, magnesium, potassium, copper and manganese.
The seventh ingredient is cod liver oil, a fish oil known to be rich in both EPA and DHA omega-3 fatty acids as well as vitamins A and D.
The eighth ingredient is egg shell powder, used here as a natural source of dietary calcium.
The ninth ingredient is flaxseed oil, one of the best non-fish sources of omega-3 fatty acids — essential to a cat's health.
The tenth ingredient is organic dried kelp, a dehydrated form of seaweed also known as alginate. Kelp is most likely used here as a thickening or gelling agent.
From here the list goes on to include a number of other items. But to be realistic, ingredients located this far down the list (other than nutritional supplements) are not likely to affect the overall rating of the product.
This recipe only contains 13 ingredients with no controversial items, which indicates it is of high quality.
Nutrient Analysis
Based on its ingredients alone, Raised Right Original Turkey looks like an above average fresh product.
The dashboard displays a dry matter protein reading of 63.6%, a fat level of 24.2% and an estimated carbohydrate level of 4.1%.
As a group, the brand features an above average protein content of 61.2% and a mean fat level of 25.4%. Together these figures suggest a carbohydrate content of 5.4% for the overall product line, alongside a fat-to-protein ratio of 42%.
This means the Raised Right fresh product line contains far above average protein, far below average carbohydrate and above average fat when compared to typical fresh cat food.
Final Word
Raised Right Original Turkey is a high quality product packed with human-grade ingredients and is an excellent source of protein. It is also free from artificial preservatives, colors, or flavors, and controversial ingredients.
About
Raised Right's company headquarters is in Rye, New York. The brand was co-founded by Braeden Ruud and his family, and is still family owned today.
Sources
1
: Adapted by the Cat Food Advisor and based upon the official definition for chicken published by the Association of American Feed Control Officials, Official Publication, 2008 Edition
We uphold the highest editorial standards when creating the authoritative content pet parents rely on and trust.
Every piece of clinical content on the Cat Food Advisor is reviewed by our certified Veterinary Advisory Board, which consists of licensed veterinarians and medically certified specialists.
Our reviews are completely independent; we are not paid by any pet food company to promote their products favorably. We do not accept money, gifts, samples or other incentives in exchange for special consideration. For more information see our Disclaimer & Disclosure page.