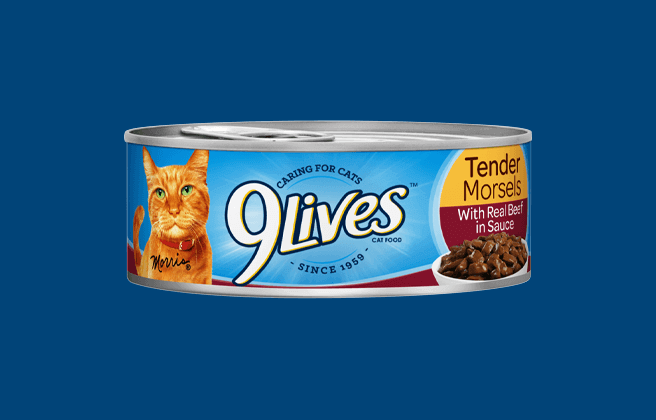 9Lives Tender Morsels wet cat food receives the Cat Food Advisor rating of 2 stars.
Tender Morsels is an affordable product range, formulated to meet the nutritional levels established by the AAFCO for  adult maintenance.
Pros
Affordable
Wide variety of flavors
Contains taurine
Cons
Meat by-products
High number of recalls
Each recipe includes its AAFCO nutrient profile: Growth (kitten), Maintenance (adult), All Life Stages, Supplemental or Unspecified
The product line includes seven wet cat foods.
| Product line | Rating | AAFCO |
| --- | --- | --- |
| With Real Beef in Sauce | 2 | M |
| Whitefish & Tuna in Sauce | 2 | M |
| Tender Morsels With Real Turkey & Chicken in Sauce | 2 | M |
| Tender Morsels With Real Turkey & Giblets in Sauce | 2 | M |
| Tender Morsels With Real Ocean Whitefish, Tuna & Cheese Bits | 2 | M |
| Tender Morsels With Real Chicken in Sauce | 2 | M |
| Tender Morsels With Real Salmon in Sauce | 2 | M |
Recipe and Label Analysis
9Lives Tender Morsels With Real Beef in Sauce was selected to represent the other products in the line for a detailed recipe and nutrient analysis.
Label and nutrient data below are calculated using dry matter basis.
9Lives Tender Morsels With Real Beef in Sauce
Estimated Dry Matter Nutrient Content
Water sufficient for processing, chicken, liver, meat by-products, soy flour, wheat gluten, modified food starch, beef, natural flavor, caramel color, calcium carbonate, salt, sodium tripolyphosphate, bone phosphate, potassium chloride, titanium dioxide (color), iron oxide (color), vitamins (vitamin E supplement, thiamine mononitrate, niacin, vitamin A supplement, D-calcium pantothenate, riboflavin supplement, pyridoxine hydrochloride, vitamin B12 supplement, menadione sodium bisulfite complex, vitamin D3 supplement, folic acid, biotin), choline chloride, taurine, minerals (ferrous sulfate, zinc oxide, manganous oxide, copper sulfate, calcium iodate, sodium selenite), thiamine mononitrate
Fiber (estimated dry matter content) = 1%
Red denotes any controversial items
Ingredients Analysis
The first ingredient is water. This adds nothing but moisture to food and is a routine finding in most wet cat foods.
The second ingredient is chicken. Chicken is considered "the clean combination of flesh and skin… derived from the parts or whole carcasses of chicken". 1
Chicken is naturally rich in the 11 essential amino acids required by a cat to sustain life.
The third ingredient is liver. Normally, liver can be considered a quality component. However, in this case, the source of the liver is not identified. For this reason, it's impossible to judge the quality of this item.
The fourth ingredient is meat by-products, an item made from slaughterhouse waste. This is what's left of slaughtered animals after all the prime striated muscle cuts have been removed. With the exception of hair, horns, teeth and hooves, this item can include almost any other part of the animal. 2
What's worse, this particular item is anonymous. So, the meat itself can come from any combination of cattle, pigs, sheep or goats — which can make identifying specific food allergies impossible. Although most meat by-products can be nutritious, we do not consider such vaguely described (generic) ingredients to be as high in quality as those derived from a named animal source.
The fifth ingredient is soy flour, a high-protein by-product of soybean processing. Although soy flour contains about 51% protein, this ingredient would be expected to have a lower biological value than meat.
And less costly plant-based products like this can notably boost the total protein reported on the label – a factor that must be considered when judging the actual meat content of this cat food.
The sixth ingredient is wheat gluten. Gluten is the rubbery residue remaining once wheat has had most of its starchy carbohydrate washed out of it. 
Compared to meat, glutens are inferior plant-based proteins low in some of the essential amino acids cats need for life. This inexpensive plant-based ingredient can significantly boost the total protein reported on the label — a factor that must be considered when judging the actual meat content of this cat food.
The seventh ingredient is starch. The source of this starch is unknown but it is most likely derived from corn or wheat. Without more information, it's impossible to adequately judge the quality of this ingredient.
The eighth ingredient is beef. Beef is defined as "the clean flesh derived from slaughtered cattle" and includes skeletal muscle or the muscle tissues of the tongue, diaphragm, heart or esophagus. 3
Beef is naturally rich in all 11 essential amino acids required by a cat to sustain life.
From here the list goes on to include a number of other items. But to be realistic, ingredients located this far down the list (other than nutritional supplements) are not likely to affect the overall rating of the product.
However this recipe contains caramel color, a natural coloring agent made by caramelizing carbohydrates. It's used by pet food manufacturers to impart a golden brown tint to the finished product.
The concentrated version of this ingredient commonly known as caramel coloring has been more recently considered controversial and found to cause cancer in laboratory animals.4
It also contains titanium dioxide, a white coloring agent. Although most claim the pigment to be a safe food additive, one international agency[2. International Agency for Research on Cancer] has classified titanium dioxide as a "Group 2B carcinogen" possibly linked to cancer in humans.Titanium oxide has been removed from the EU's Register of Feed Additives due to concerns around its safety.
Iron oxide is also included in this recipe. Iron oxide, a synthetic color additive used in industry to impart a reddish color to food — and paint. In its natural form, this chemical compound is more commonly known as "iron rust".
We're always disappointed to find any artificial coloring in pet food. That's because coloring is used to make the product more appealing to humans — not your cat. After all, do you really think your cat cares what color his kibble is?
As well as these artificial colors, this recipe also contains sodium selenite, a controversial form of the mineral selenium. Sodium selenite appears to be nutritionally inferior to the more natural source of selenium found in selenium yeast.
We view the presence of taurine in this recipe as a positive addition.
This recipe receives a 2-star rating.
Nutrient Analysis
Based on its ingredients alone, 9Lives Tender Morsels With Real Beef in Sauce looks like below-average wet cat food.
The dashboard displays a dry matter protein reading of 50%, a fat level of 13.9% and an estimated carbohydrate level of 28.1%.
As a group, the brand features an average protein content of 49.2% and a mean fat level of 13.5%. Together these figures suggest a carbohydrate content of 29.3% for the overall product line, alongside a fat to protein ratio of 28%.
This means this 9Lives Meaty Pate product line contains above-average protein levels and near-average carbs and near-average fat, when compared to typical wet cat food.
Final Word
9Lives Meaty Tender Morsels is a cheaper wet cat food made from, predominantly, low quality ingredients, in particular, unnamed meat by-products. It also contains artificial food colors.
Has 9Lives cat food been recalled in the past?
9Lives has had at least two recalls in its 60-plus year history. 
The most recent was in December 2018, when two varieties of 9Lives canned cat food were recalled due to potentially low levels of thiamine (vitamin B1).
And in early January of 2017, several flavors of Meaty Paté were pulled off the shelves due to potential thiamine deficiency. 
The recall was expanded eight days later to include more Meaty Paté flavors.  In addition to 9Lives foods, the recall involved two other Big Heart Pet brands—EverPet and Special Kitty.
You can view a complete list of all cat food recalls since 2021 here.
To stay on top of any cat food product recalls, sign up for our free email alerts, here.
About
9Lives was founded in 1957 and, after taking on its iconic mascot, Morris, became one of the most recognizable brands in the pet food industry.
9Lives is owned by Big Heart Pet Brands, a subsidiary of the J.M. Smucker company. Other brands in the Big Heart Pet Brands' family include Meow Mix, Natural Balance, Nature's Recipe, and Milo's Kitchen.
Sources
1
:
Association of American Feed Control Officials
4
: Consumer Reports February 2014
We uphold the highest editorial standards when creating the authoritative content pet parents rely on and trust.
Every piece of clinical content on the Cat Food Advisor is reviewed by our certified Veterinary Advisory Board, which consists of licensed veterinarians and medically certified specialists.
Our reviews are completely independent; we are not paid by any pet food company to promote their products favorably. We do not accept money, gifts, samples or other incentives in exchange for special consideration. For more information see our Disclaimer & Disclosure page.