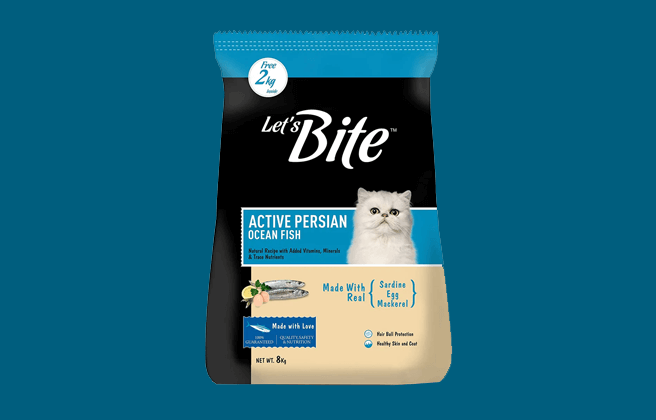 Let's Bite dry cat food receives the Cat Food Advisor rating, 3.5 stars.
This range of food has two fish sources listed as its first and second ingredients which means it offers a good source of omega-3. It is also supplemented with vitamins and minerals to ensure a well rounded diet.  However, protein levels are average, carbohydrate content is high and this range does contain multiple controversial ingredients.
Pros
Good quality fish meat
Good protein source
Enriched with vitamins and minerals
Source of omega-3
Cons
Average protein content
High in carbohydrate
Each recipe includes its AAFCO nutrient profile: Growth (kitten), Maintenance (adult), All Life Stages, Supplemental or Unspecified.
The Let's Bite dry product line includes three cat foods.
| Product line | Rating | AAFCO |
| --- | --- | --- |
| Active Adult Dry Cat Food - +1 Year, Ocean Fish | 3.5 | M |
| Active Kitten Cat Food - With Ocean FishActive Kitten Cat Food - With Ocean Fish | 3.5 | G |
| Active Persian Dry Adult Cat Food - With Ocean Fish | 3.5 | M |
Recipe and Label Analysis
Let's Bite Active Persian Dry Adult Cat Food – With Ocean Fish recipe was selected to represent the other products in the line for a detailed recipe and nutrient analysis.
Label and nutrient data below are calculated using dry matter basis.
Active Persian Dry Adult Cat Food - With Ocean Fish recipe
Estimated Dry Matter Nutrient Content
Sardine, mackerel, egg, corn gluten meal, whole grain cereals, soya refined oil, wheat flour, taurine, vitamins (vitamin A, vitamin E, vitamin B1, vitamin B2, vitamin B12, choline, niacin, folic acid), organic minerals (zinc, iron, copper, selenium, manganese), prebiotics & probiotics
Fiber (estimated dry matter content) = 5%
Red denotes any controversial items
Ingredients Analysis
The first ingredient is sardine, which is naturally rich in the prized EPA and DHA type of omega-3 fatty acids. These two high quality fats boast the highest bio-availability to cats and humans.
The second ingredient is mackerel.  Mackerel is an oily salt-water fish naturally high in protein as well as omega-3 fatty acids, an essential fat needed by every cat to sustain life.
The third ingredient is egg.  Eggs are easy to digest and have an exceptionally high biological value.
The fourth ingredient is corn gluten meal.  Gluten is the rubbery residue remaining once corn has had most of its starchy carbohydrate washed out of it.
Although corn gluten meal contains 60% protein, this ingredient would be expected to have a lower biological value than meat.
And less costly plant-based products like this can notably boost the total protein reported on the label – a factor that must be considered when judging the actual meat content of this cat food.

The fifth ingredient is whole grain cereals.  Whole grains or foods made from them contain all the essential parts and naturally-occurring nutrients of the entire grain seed in their original proportions. If the grain has been processed (e.g., cracked, crushed, rolled, extruded, and/or cooked), the food product should deliver the same rich balance of nutrients that are found in the original grain seed.
This definition means that 100% of the original kernel – all of the bran, germ, and endosperm — must be present to qualify as a whole grain. 1 
There are 14 grain species which can be defined as whole grain cereals. Dependent on the grains included, the nutrients supplied can vary hugely. 
Whole grain cereals doesn't give us much information about the particular ingredient included in this food. Generally, whole grain cereals contain fibers, carbohydrates, vitamins and minerals. Aside from its energy content, however, this whole grain cereal is of only modest nutritional value to a cat.
This waste ingredient can possibly contain a measurable amount of sugar left over from the manufacture of breakfast cereals. Food fines are typically associated with lower quality cat foods.
The sixth ingredient is soya refined oil and is red flagged only due to its rumored (yet unlikely) link to feline food allergies.
However, since soybean oil is high in omega-6 fatty acids and contains no omega-3s, it's considered less nutritious than flaxseed oil or a named animal fat.
The seventh ingredient is wheat flour, a highly-refined product of wheat milling.  Like corn, wheat is an inexpensive and controversial cereal grain of only modest nutritional value to a cat. For this reason, we do not consider wheat a preferred component in any cat food.

The eighth ingredient is taurine, an essential amino acid for cats associated with the healthy function of heart muscle and eye sight, and is crucial for maintaining good health in cats. 
We view the presence of taurine in this recipe as a positive addition.
From here the list goes on to include a number of other items. But to be realistic, ingredients located this far down the list (other than nutritional supplements) are not likely to affect the overall rating of the product.
However, this recipe contains sodium selenite, a controversial form of the mineral selenium. Sodium selenite appears to be nutritionally inferior to the more natural source of selenium found in selenium yeast.
Recipe star rating 3.5.
Nutrient Analysis
Based on its ingredients alone, Let's Bite Active Persian Dry Adult Cat Food – With Ocean Fish recipe looks like an average dry product.
The dashboard displays a dry matter protein reading of 38.9%, a fat level of 13.3% and an estimated carbohydrate level of 39.8%.
As a group, the brand features a near-average protein content of 36.7% and a near-average fat level of 14.1%. Together these figures suggest a carbohydrate content of 41.3% for the overall product line, alongside a fat to protein ratio of 38%.
This means this Let's Bite range contains average protein, higher than average carbohydrate and average fat, when compared to typical dry cat food.
Final Word
This cat food does contain some good fish meat sources, additional vitamins and minerals to help make a balanced diet.  However, protein levels are low and carbohydrates high versus other dry cat foods.  In addition, there are multiple controversial ingredients across this range which have caused us to mark it down.
About
It is difficult to ascertain when this company was set up, or indeed who was the founder, or current CEO.

What we can say with confidence is that the food is manufactured in India.
Sources
1
: Whole Grains Council, 2004
We uphold the highest editorial standards when creating the authoritative content pet parents rely on and trust.
Every piece of clinical content on the Cat Food Advisor is reviewed by our certified Veterinary Advisory Board, which consists of licensed veterinarians and medically certified specialists.
Our reviews are completely independent; we are not paid by any pet food company to promote their products favorably. We do not accept money, gifts, samples or other incentives in exchange for special consideration. For more information see our Disclaimer & Disclosure page.